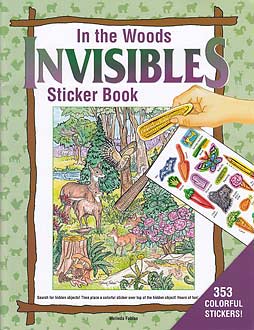 In the Woods Invisibles Sticker Book
Paper cover
16 pages
0.33 lbs
Item #14-INV591
From the Invisibles Sticker Book Series.
353 colorful stickers!
Come, let's go on a walk through the woods and see what we can find...
What? I see a scissor hidden on stump!
No way! There's a strawberry hidden in a deer's ear!
Oh my?? How did a lemon end up on the antlers of an elk.
Can you believe it? I just saw a green sock in Peter Cottontail's ear.
Shhh! There are 353 other things hiding in the woods just waiting for you to find them. When you've found them, place a sticker over each hidden object. There's lots of fun waiting in the woods!
Customers who bought this product also bought
Customers who viewed this product bought