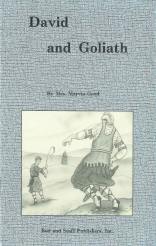 David and Goliath - "Say-It-Again Series"
Paper cover
20 pages
0.1 lbs
Item #1-2395
Also available
used
$2.04
From the Say-It-Again Series.
Based on 1 Samuel 17:40-50
Written with short sentences and much repetition. Large, easy-to-read type and simple, basic words help children grasp the facts and to begin reading for themselves. Interesting reading for any young child. Many large illustrations.
Customers who bought this product also bought
Customers who viewed this product bought