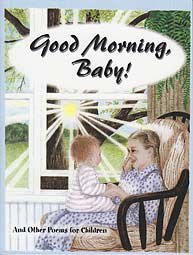 Good Morning, Baby! - And Other Poems for Children
Paper cover
48 pages
0.24 lbs
Item #1-2149
Good Morning, Baby!

Good morning, Baby, round and rosy,
Bouncy, bouncy—get your nosey!
Soft and cuddly, warm and wiggly;
Tickle, tickle, Baby's giggly!
Happy Baby! Jolly, jumpy—
God has made you sweet and plumpy.
Dimply hands and smiles so cheery,
Jesus loves you, Baby dearie!
Twinkling eyes say "Peek-a-boo!"
Good morning, Baby. We love you!
Contents

1. Good Morning, Baby!
2. Little Brown Bird
3. Different Sizes
4. Puzzle Weather
5. One Step—Two Steps
6. Noodle Making
7. God Can Make It Grow
8. Watermelon Wonder
9. Winter Picnic
10. Twitter-tweet
Customers who bought this product also bought
Customers who viewed this product bought