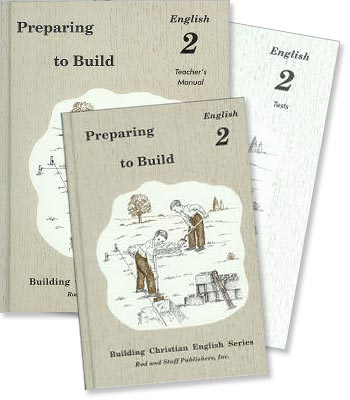 Grade 2 English "Preparing to Build" Set
There are no worksheets for this grade.
Preparing to Build contains 6 units and a short dictionary. Each unit has 25 lessons and closes with review lessons, an extra activity, and a poem. (Unit 6, as a supplementary unit, does not follow this pattern.)
The book teaches the concept of a sentence as the expression of a complete thought. Basic concepts of nouns, verbs, pronouns, and adjectives are studied. The paragraph is introduced. The supplementary unit teaches alphabetical order and basic dictionary skills.
The teacher's manual suggests ways for the teacher to present each lesson and supplies the answers for the various exercises and unit tests.
A separate test booklet provides tests for each of the first 5 units. Each test is divided into two parts, and may be conducted on two separate days at the end of each unit.
Table of Contents

Unit I - Learning About Sentences

1. What is a Sentence?
2. Phrases
3. The Telling Sentence
4. The Asking Sentence
5. Reviewing What We Have Learned
6. Starting Sentences Correctly
7. Beginning and Ending Sentences
8. Making Sentences
9. Making More Sentences
10. Reviewing What We Have Learned
11. Building More Sentences
12. Writing What We Know
13. Writing More Sentences
14. Answering Questions
15. Reviewing What We have Learned
16. More About Answering Questions
17. Writing Our Answers
18. Changing Word Order
19. Writing More Answers
20. Reviewing What We Have Learned
21. A Proper Order
22. Putting Words in Order
23. Making Sentences
24. Writing More Sentences
25. Reviewing What We Have Learned
Review One
Review Two
Extra Activity
A Poem to Enjoy

Unit II - Basic Building Blocks of Our Language

1. Naming Words
2. Nouns
3. Nouns That Tell Who
4. Nouns That Tell What
5. Reviewing What we Have Learned
6. Telling Who and What
7. Nouns That Tell What Place
8. Who, What, and What Place
9. Finding Nouns as We Read
10. Reviewing What We Have Learned
11. Writing Names of People
12. Writing Names of Places
13. Writing Proper Nouns
14. Recognizing Proper Nouns
15. Reviewing What We Have Learned
16. Doing Words
17. Verbs
18. Finding Verbs
19. Using Verbs
20. Reviewing What We Have Learned
21. Finding Nouns and Verbs
22. Completing Sentences
23. Building Sentences
24. Looking at Sentences
25. Reviewing What We Have Learned
Review One
Review Two
Extra Activity
A Poem to Enjoy

Unit III - Pronouns: Another Building Block of English

1. Words That Stand for Nouns
2. More About I and Me
3. You
4. The Pronoun It
5. Reviewing What We Have Learned
6. He and Him
7. More About He and Him
8. She and Her
9. More Practice With She and Her
10. Reviewing What We Have Learned
11. We and Us
12. We and I, Us and Me
13. They and Them
14. More Practice With They and Them
15. Reviewing What We Have Learned
16. One and More Than One
17. Using You for One or More
18. He, She, It, and They
19. Telling About More Than One
20. Reviewing What We Have Learned
21. Using Pronouns Correctly
22. More Practice With I and Me
23. Using Nouns and Pronouns
24. More Practice With Nouns and Pronouns
25. Reviewing What We Have Learned
Review One
Review Two
Extra Activity
A Poem to Enjoy

Unit IV - Meeting More Building Blocks of

1. Telling About Nouns
2. Describing Nouns
3. What Color Is It?
4. Answering Questions With Adjectives
5. Reviewing What We Have Learned
6. Working With Adjectives
7. Describing What We See
8. Describing What We Hear
9. Using Adjectives
10. Reviewing What We Have Learned
11. Building Better Sentences
12. How Many?
13. Saying What We Mean
14. Using Words in Correct Order
15. Reviewing What We Have Learned
16. Meeting More Verbs
17. Was and Were
18. Present and Past
19. More Work With Present and Past
20. Reviewing What We Have Learned
21. Have and Has
22. Have, Has, and Had
23. Thinking About Verbs
24. More Practice With Verbs
25. Reviewing What We Have Learned
Review One
Review Two
Extra Activity
A Poem to Enjoy

Unit V - Using Our Language

1. What Is a Paragraph?
2. What the Paragraph is About
3. Finding the Subject of a Paragraph
4. More Practice Finding the Subject
5. Reviewing What We Have Learned
6. Finding the Paragraph's Subject
7. More Work Finding the Subject
8. Writing Sentences in Order
9. More Practice With Sentence Order
10. Reviewing What We Have Learned
11. Sentences That Do Not Belong
12. Thinking About Things We See
13. Thinking About Things We Hear
14. Thinking About Things We Feel
15. Reviewing What We Have Learned
16. Writing About What We See
17. Writing About What We Hear
18. Writing About What We Feel
19. Seeing, Hearing, and Feeling
20. Reviewing What We Have Learned
21. Rhyming Words
22. Using Rhyming Words
23. Finishing a Rhyme
24. Writing a Poem
25. Reviewing What We Have Learned
Review One
Review Two
Extra Activity
A Poem to Enjoy

Unit VI - Building Our Vocabulary

1. Alphabetical Order
2. More Work With Alphabetical Order
3. More Alphabet Practice
4. When Words Begin With the Same Letters
5. More Practice With Alphabetical Order
6. When the First Two Letters Are the Same
7. Using Alphabetical Order
8. Writing Names in Alphabetical Order
9. More Practice Writing Names in Alphabetical Order
10. Reviewing Alphabetical Order
11. Meeting the Dictionary
12. Finding Correct Pronunciation
13. Finding Word Meanings
14. More Practice Finding Definitions
15. Words Used in the Bible
16. Words That Sound the Same
17. More Words That Sound the Same
18. Words That Mean the Same
19. Using Words That Mean the Same
20. Choosing More Exact Words
21. More Practice Choosing Exact Words
22. Words That Tell How We Move
23. Words That Are Opposites
24. Practice With Opposites
25. Reviewing What We Have Learned

Pronunciation Key
Dictionary
Customers who bought this product also bought
Customers who viewed this product bought