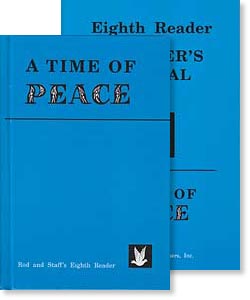 Grade 8 Reading "A Time of Peace" Set
A Time of Peace contains 30 narratives. 4 selections of Bible prose, 12 English poems, and 10 essays. Study exercises follow each selection. Vocabulary and comprehension exercises are more extensive in this book than in Grade 6 and 7.
The teacher's manual provides some background information, oral reading pointers, and an answer key. Additional notes are given on the origin of many of the vocabulary words.
Table of Contents

1. The Dime Store Cotton
2. Beautiful Things
3. A Strange Turn of Events
4. The Little Man of Exceptional Stature
5. Which of the Nine?
6. The Ways of a Bear
7. Snared in the Net
8. Drop a Pebble in the Water
9. Isaac Watts
10. The Search for a Word
11. My Day
12. Micha's Thanks
13. Myself
14. One Dark Night
15. The Frailty and Brevity of Life
16. The Rickshaw Puller of Calcutta
17. How Did the Water Get Into the Watermelon?
18. The Man He Came to Save
19. The Pineapples and the Bee
20. Letitia's Plea
21. The Price of Disobedience
22. The Legend of Kate Shelley
23. Who Hath Weighed the Mountains?
24. Going After a Job
25. Mischief Making
26. The Forgiven Debt
27. The Lord's Reply to Job
28. The Forgotten Watermelon
29. Rules for Improvement by Conversation
30. Stick to Your Bush
31. The Arrow and the Song
32. The Boy and Hushwing
33. The Pharisees Confront Jesus
34. Just Short of Eternity
35. An Impossible Creature
36. Hans Hut-Twice Burned
37. Don't Stand in the Way
38. The One-Way Command
39. Paul Experiences Shipwreck
40. Black Pirate of the Peaks
41. Clean and I
42. Planting Time Is in the Spring
43. Of Pots and Potters
44. The Observing Judge
45. Little and Great
46. We'll Let Them Borrow
47. Meditation on God's Mighty Power
48. Great Possessions
49. The Landing of the Pilgrim Fathers
50. The Gift and the Giver
51. Born to Fly
52. My Struggle for an Education
53. The Destruction of Sennacherib
54. The Treasure in the Cave
55. A More Excellent Way
56. A Memory of the Redwoods
57. As the King Passed By
58. The Cries in the Cabin
59. A Walk in a Graveyard
60. The Story of John Wycliffe
Customers who bought this product also bought
Customers who viewed this product bought