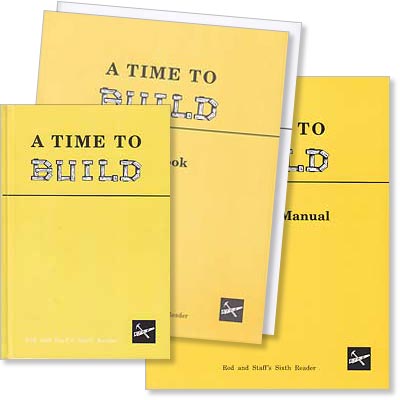 Grade 6 Reading "A Time to Build" Set
A Time to Build contains 40 narratives, 6 selections of Bible prose, 4 selections of Bible poetry, 6 English poems, and 4 compositions themes (of which two are Scripture passages). Vocabulary lists and comprehension exercises are included in the book at the end of each lesson. [The comprehension exercises in the reader were designed for use with the previous edition teacher's manual, and may be skipped when using the updated exercises in the current edition workbook.]
The workbook contains a Lesson Outline for most lessons, and a variety of exercises, such as fill-in-the-blanks, true-or-false, best-choice, and sentence answers. It offers vocabulary skills, theme selection, sequencing, and composition. Suggested scoring points are given for each lesson.
The teacher's manual is a copy of the pupil workbook with answers filled in, along with helpful information for the teacher.
The test booklet contains 8 tear-out progress tests.
Alternate items (not included):
Before the revised and expanded workbook was prepared, the following materials were used to supplement the course, and are still available:
Table of Contents

1. The Long Rope
2. Watches and Their History
3. Ruth and Naomi
4. Adventures of Berry Picking
5. As You See It
6. "One, Two, Three!"
7. Mighty Midget of the Bird World
8. A Light in Darkness
9. Jesus at the House of Simon the Pharisee
10. The World Beyond
11. The Avalanche
12. The Divine Keeper of Israel
13. The Story of McIntosh Red
14. The Latchstring
15. Composition Theme: Profiting From Mistakes
16. Lightning Strike!
17. The Life of a Sheepherder
18. Hushai's Counsel to Absalom
19. To Climb a Mountain
20. Treasure on the Roof
21. A Song of Praise
22. Grandfather's Glass Factory
23. Who Are Our Best Friends?
24. Moses' Song at the Red Sea
25. Hope for Rispa
26. "Unclean! Unclean!" The Truth About Leprosy
27. The Prairie Fire
28. Buried in Snow
29. To Start a Fire
30. Composition Theme: The Uncertainty of the Future
31. Jamestown Preacher
32. Color for a King
33. Abraham's Intercession for Sodom
34. Three Signs From God
35. The Boy Who Changed the Lives of the Blind
36. One Little Act
37. Bob
38. Upside-down Water
39. The Resurrection of Jesus
40. I Did Not Think of That
41. Midnight Splendor
42. The Goodness and Greatness of God
43. The Fisherman
44. The Sewing Race
45. Composition Theme: Planning Versus Performing
46. The Raccoon Family
47. A Lesson on Meddling
48. The Persecution of the Apostles
49. The River That Awoke From Sleep
50. "Thou Shalt Not Be Afraid"
51. The Blind Men and the Elephant
52. Lone Clearing
53. The Indian Bible
54. The Two Paths
55. The Den of the Otters
56. Three Loaves of Bread
57. Smile
58. The Executioner
59. The Linguist
60. Composition Theme: The Pharisee and the Publican
Customers who bought this product also bought
Customers who viewed this product bought