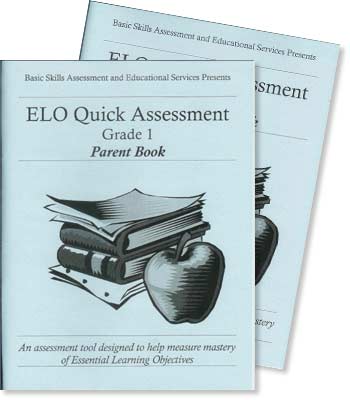 Grade 1 - ELO (Essential Learning Objectives) Quick Assessment Test
An assessment tool designed to help measure mastery of Essential Learning Objectives
This test features 226 exercises in 11 skill sets covering the core areas of language arts and math.
Introduction

Why This Product?

Dear Home School Parent,

As a father of three children, I understand the difficulty of home schooling, especially young children. During the elementary grades, two important questions most frequently asked are, "Are my children performing academically at grade level?" and, "How do I know?" Many parents attempt to use the few evaluation instruments available on the market, utilize a variety of assessment techniques recommended by textbook publishers, or employ private assessment services. But, these products and services may be very expensive, and give only indirect information or simply compare one student to another.

Holding to the high academic standards that Basic Skills Assessment and Educational Services is known for, the ELO (Essential Learning Objectives) Quick Assessment is designed to fill the gap that achievement tests and other products leave. As a comprehensive assessment tool, it is useful for evaluating and tracking academic success. Using primarily an objective testing format and measuring precise learning outcomes, it delivers accurate, easy-to-read results. Parents are empowered to identify specific skills mastered as well as those the student does not possess.
Contents (Parent Book)

Essential Learning Objectives
Mastering Test Strategies

Preparation Before Testing
Test Taking Strategies the Day of Testing

Parent Instructions

Language Arts

Sentences
Punctuation
Capitalization
Word Study
Handwriting
Phonics

Math

Numbers and Numerals
Addition of Whole Numbers
Subtraction of Whole Numbers
Fractions
Geometry
Measurement

Answer Key

Grading Instructions and Tips
Language Arts
Math

Quick Assessment Results Forms

Quick Assessment Results Instructions
Language Arts
Math
Contents (Student Workbook)

Language Arts

Sentences (25 exercises)
Punctuation (10)
Capitalization (20)
Word Study (25)
Phonics (14)

Math

Numbers and Numerals (30 exercises)
Addition of Whole Numbers (25)
Subtraction of Whole Numbers (15)
Fractions (5)
Geometry (12)
Measurement (45)
Customers who bought this product also bought
Customers who viewed this product bought