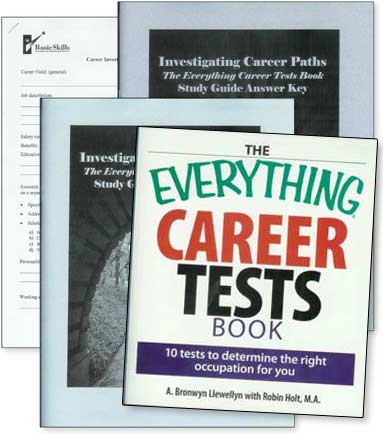 Investigating Career Paths Set
The purpose of Investigating Career Paths is to provide the student with an opportunity to explore career possibilities beyond high school. Whether or not a student has specific career interests, this course will help reveal personal skills, habits, and affinities through ten interactive tests. It is intended to familiarize them with the thought, investigation, and process necessary in choosing and securing a job.
A note of caution: the Career Tests book itself was written from a secular viewpoint, and does not address the issue of where God wants you to serve. The companion student packet included here does supplement some Biblical direction for using the course.
This, or a similar course, is required for graduation at New Covenant Christian Academy.
Course Objectives
Identify personal aptitudes
Investigate career fields of interest
Learn how to obtain a job
To go along with The Everything Career Tests Book, the companion student packet materials include:

Overview Guide
Study Guide Student Book
Study Guide Answer Key
Career Investigating Worksheet (2 copies)
Career Field Interview Form (2 copies)
Job Shadow Worksheet (2 copies)
Resume Guide
Customers who bought this product also bought
Customers who viewed this product bought