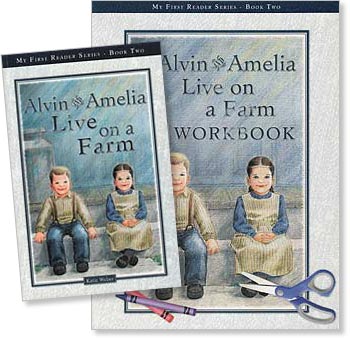 Alvin and Amelia Live on a Farm - Book Two Set
My First Reader Series: Book Two
This series for beginning readers features stories about Alvin and Amelia, two young children growing up in a rural Amish-style setting. Even children from other backgrounds will enjoy reading the simple stories of helping Father and Mother, and the many kinds of down-to-earth adventures that happen on a farm where horse-and-buggy is still the way of life.
Before each story, there is a list of new words for the child to meet and become familiar with. There is a charming picture on every page of the stories to help them fully understand what they are reading. This book is just right for those who are beginning to read and will provide excellent practice to enhance their reading skills. And, of course, will provide many hours of pure enjoyment.
A workbook accompanies each reader, providing many enjoyable hours doing and learning exercises that go with the stories in the textbook. Not only will they be able to enhance their comprehension skills, they will also be gaining valuable reading practice at the same time. The various exercises include writing practice, question and answer, matching and more.
---
In this book children will read how Star gets new shoes on her feet. And what will happen to Alvin's hat when it falls into the calf pen? Something is eating the apples. What could it be?
Table of Contents

The Mess
See Emma
New Shoes
Playing in the Barn
Christmas
Alvin's Hat
Writing
Kerchoo!
Alvin's Birthday
Snow
Meat and More Meat
Grandmother and Grandfather
Alvin's New Book
Amelia's New Book
Who Ate the Apples?
Sled Riding
The Little Mother
The Coloring Book
The Big Fish
Amelia's Birthday
Customers who bought this product also bought
Customers who viewed this product bought