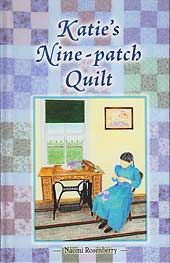 Katie's Nine-patch Quilt
Hard cover
187 pages
0.92 lbs
Item #7-6265
Katie knew a nine-patch quilt was not hard to make. She bent over her work again. Stitch. Snip. Stick. Soon she would be finished with another checkerboard of squares. When she had fifty-six nine-patch blocks made... Well, that's what she was looking forward to.
Live with nine-year-old Katie Eberly from January 1925 to January 1926. Follow the routines of home and farm life when either human or horsepower provided most of the energy to accomplish the work—making a rag carpet, churning butter, making cheese, putting up hay, and preserving food. Feel the excitement of Katie and her family as electric lights brighten the house, an open-sided car speeds them over bumpy dirt roads, and an electric well pump brings water right to the kitchen sink!
Why was Katie so determined to finish her quilt blocks? What does she learn from Grandmother, who comes to live with Katie's family? Why must Grandmother say good-bye?
This historical account is based on the childhood memories of a great-grandmother who was born nearly 100 years ago.
Contents

Acknowledgements
1. "Watch Out!"
2. A Snowy School Day
3. "Rug Rags for What?"
4. Learning Contentment
5. Miss Martin Is Quitting
6. Summer Chores
7. Churning Butter
8. Going to Church
9. Cherries and Hay
10. Time to Pick Peas
11. Mother Makes Cheese
12. Grandmother Comes to Stay
13. Uncle Will's Come to Visit
14. Electric Lights!
15. Hot Day—Cold Treat
16. Summer Ends
17. The New Teacher
18. "Is That Car Ours?"
19. What Grandmother Likes
20. The Fall Harvest
21. Running Water at Last!
22. A Job Well Done
23. Grandmother Says Good-bye
24. A Trip to Orrville
More About Katie
Glossary
Customers who bought this product also bought
Customers who viewed this product bought