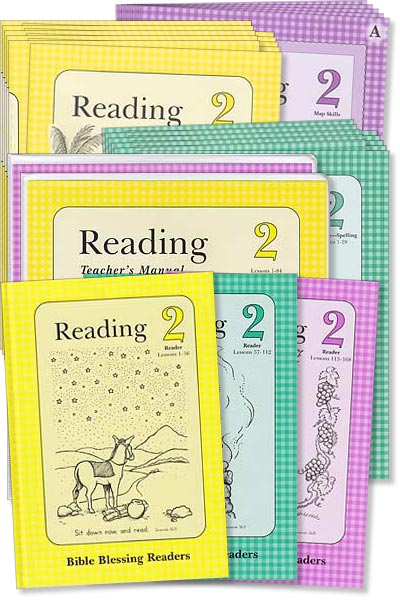 Grade 2 BBR "Reading 2" Set
This course, with 168 lessons, provides a complete reading, phonics, and spelling curriculum for second grade. The basic plan of Reading 2 builds on the foundation of Reading 1. New vocabulary words, introduced in every lesson, provide core material for study and ensure that reading comprehension develops with learning to read. Having the phonics and spelling exercises grow together with reading further increases the command of words and prepares the mind for full development in reading and writing.
As in Reading 1, six stories, developed from Bible accounts and characters, are followed by a story or poem from everyday life. Bible lessons and rule for Christian character are woven throughout. Bible maps and customs, developed in a booklet of their own, are useful in expanding reading comprehension as well as Bible knowledge. The Teacher's Guide (in two volumes) gives thorough instructions with every lesson.
Flow Chart (1 school year ≈ 180 school days):
Supplementary items (not included):
Teacher's Manual Contents

Overview of Reading 2
Wall Cards Illustrated
Daily Lesson Plans

Lesson 1
⋮
Lesson 15
⋮
Lesson 29
⋮
Lesson 46
⋮
Lesson 64
⋮
Lesson 81
⋮
Lesson 99
⋮
Lesson 116
⋮
Lesson 134
⋮
Lesson 151
⋮
Cluster / Title
Bible Passage
Creation

1. Noth-ing Is Too Hard for Thee !
2. God's Pow-er in Seas and Trees
3. God's Pow-er in the Heav-ens
4. God's Pow-er in Wa-ter and Wings
5. God's Pow-er in Creep-ing Things
6. The Pow-er of God's Breath
7. God Can ... Can You ?

1. Genesis 1:1-18; Jeremiah 32:17
2. Genesis 1:9-13; Jeremiah 32:17
3. Genesis 1:14-19; 18:14
4. Genesis 1:20-23; 18:14; Jeremiah 32:17
5. Genesis 1:24, 25; 2:19; Jeremiah 32:17
6. Genesis 1:26-2:22; 3:20

John the Baptist

8. Zach-a-ri-as
9. In the Ho-ly Place
10. What the Tab-let Said
11. A Voice in the Wil-der-ness
12. "Be-hold the Lamb !"
13. From Earth to Heav-en
14. Un-der the Cher-ry Tree

8. Luke 1:5-12
9. Luke 1:10-23
10. Luke 1:57-79
Matt. 3:1-5; Luke 1:80; 3:2-6; John 1:19-22
Matt. 3:5-17; Mark 1:4-11; John 1:23-34
Matt. 14:1-12; Mark 6:14-29

Daniel

15. "I Will Do Right"
16. The Se-cret No Man Knew
17. The Fi-er-y Test
18. Neb-u-chad-nez-zar
19. Dan-iel's Win-dows
20. Dan-iel's God
21. Four Boys and One Ap-ple

15. Dan. 1:1-17
16. Dan. 1:18-21; 2
17. Dan. 3
18. Dan. 4
19. Dan. 6:1-14
20. Dan. 6:14-27

The Village of Bethany

22. A Fam-i-ly in Beth-a-ny
23. Weep-ing Sis-ters
24. "Je-sus Wept"
25. Mar-y's Treas-ure
26. "Ho-san-na !"
27. Up In-to the Clouds
28. Ling Sing of Chi-na

22. Luke 10:38-42
23. John 11
24. John 11
25. Matt. 26:6-13; Mark 14:3-9; John 12:1-8
26. Matt. 21:1-11; Lkke 19:28-38
27. Luke 23; 24

Abraham, the Friend of God

29. God's Friend
30. Poor Lot
31. A-bra-ham Cares
32. Es-cape !
33. Sar-ah's Hand-maid
34. "Where Is the Lamb?"
35. A Les-son From the Bee

29. Gen. 12; 13; James 2:23
30. Gen. 13; 14
31. Gen. 14; 18
32. Gen. 19
33. Gen. 21
34. Gen. 22
35. Gal. 6:9

Gideon

36. A Time of Trou-ble
37. A Task in the Night
38. Cour-age for the Cap-tain
39. God Counts the Sol-diers
40. Trum-pets at Mid-night
41. Vic-to-ry Be-fore Sun-rise
42. Will the Sacks Be Full To-night ?

36. Judg. 6:1-18
37. Judg. 6:19-29
38. Judg. 6:30-40
39. Judg. 7:1-13
40. Judg. 7:9-23
41. Judg. 8
42. Luke 6:31

Jesus in the Temple

43. "The Sav-ior Has Come !"
44. The O-be-di-ent Lad
45. The Man on the Porch
46. The Wom-an in the Court-yard
47. Less Than a Pen-ny
48. My Ho-ly House
49. Pass the Bless-ing On

43. Luke 2:21-39
44. Luke 2:39-52
45. John 5:1-15
46. John 8:1-11
47. Luke 21
48. Matt. 21:12,13; Mark 11:15-17; Luke 19:45,46
49. Acts 20:35

God's People in Egypt

50. A Fam-i-ly of Cour-age
51. A Faith-ful Moth-er's Son
52. A Hum-ble Shep-herd
53. "What Is in Your Hand ?"
54. "Let My Peo-ple Go"
55. The Rod of God
56. The Whis-tle He Nev-er Blew

50. Ex. 1-2:7
51. Ex. 2:7-16
52. Ex. 2:20-3:11
53. Ex. 3:11-4:17
54. Ex. 4:18-5:11
55. Ex. 5:12-7:13
56. Prov. 10:1

God's People Out of Egypt

57. Trou-ble at the Nile
58. Trou-ble in Cot-tage and Pal-ace
59. "None Like JE-HO-VAH"
60. Safe In-side the Door
61. Es-cape at Mid-night
62. A Song of Vic-to-ry
63. Lit-tle A-my's Prayer

57. Ex. 7:14-8:15
58. Ex. 8:16-32
59. Ex. 9:1-10:15
60. Ex. 10-12:28
61. Ex. 12:29-14:4
62. Ex. 14:5-15:21

Peter, the Fisherman

64. Four Fish-er-men
65. O-be-di-ent Si-mon
66. Two on the Wa-ter
67. Three Ques-tions
68. Af-ter Sup-per
69. Un-der the Ol-ive Trees
70. Lit-tle Chim-ney Sweep

64. Matt. 4; Mark 1
65. Luke 5
66. Mark 14, 16
67. Matt. 16:13-18:22
68. John 13:1-15
69. Matt. 26:30-56
70. Prov. 10:4

Peter, the Disciple

71. Bit-ter Tears
72. Joy at Twi-light
73. A House-ful of Jews
74. "Ask for Pe-ter"
75. A House-ful of Gen-tiles
76. Af-ter Sev-en-ty Years
77. Ber-ry Wis-dom

71. Matt. 26:57-27:60
72. John 20, 21
73. Acts 2-3:10
74. Acts 10:1-24
75. Acts 10:23-48; 12:1-10
76. Acts 12:10-17
77. Prov. 20:11

E-li-jah's Task Be-gins

78. "Turn East-ward"
79. "Jour-ney North-west"
80. Up-stairs in the Loft
81. In Search of Green Grass
82. "Come to Car-mel"
83. Two Al-tars
84. The Snow-y Stran-ger

78. 1 Kings 16:30-33; 17:1-7
79. 1 Kings 17:7-16
80. 1 Kings 17:14-24
81. 1 Kings 18:1-16
82. 1 Kings 18:14-22
83. 1 Kings 18:20-35
84. Matt. 25:35

E-li-jah's Task Ends

85. Two Prayers
86. From Car-mel to a Cave
87. From Shad-ows to Sun-shine
88. A Hum-ble Plow-man
89. A Sly Queen
90. Fare-well, E-li-jah
91. A Wa-ter-drop's Jour-ney

85. 1 Kings 18:36-46
86. 1 Kings 18:45-19:9
87. 1 Kings 19:9-19
88. 1 Kings 19:9-21; 21:1-5
89. 1 Kings 21:4-20
90. 1 Kings 21:16-23; 2 Kings 2:1-14
91. Eccles. 1:7

Jonah

92. "I Will Es-cape"
93. "What Shall We Do ?"
94. Be-hind Pris-on Bars
95. Up and Down the Streets
96. Wrapped in Sack-cloth
97. "Thou Art Mer-ci-ful"
98. The Ten-Coin Prom-ise

92. Jonah 1:1-6
93. Jonah 1:6-17
94. Jonah 1:17-3:1
95. Jonah 3:1-5
96. Jonah 3:3-4:2
97. Jonah 3:10-4:11
98. Eph. 3:20,21

Ja-cob and E-sau

99. Grow-ing Up
100. Peace With the Neigh-bors
101. Dis-hon-est Ja-cob
102. Tear-stained E-sau
103. Un-der the Star-ry Skies
104. Near Pa-tient Sheep
105. Peb-bles

99. Gen. 24:67; 25:20-34
100. Gen. 26:1-25
101. Gen. 27:1-30
102. Gen. 27:30-42
103. Gen. 27:42-28:22
104. Gen. 29:1-12
105. 1 Sam. 17

Ja-cob, Le-ah, and Ra-chel

106. "Why Did You Cheat?"
107. "May We Go?"
108. Pack-ing Up
109. A Six-Day Search
110. A Night of Bless-ing
111. The Fam-i-ly Comes Home
112. A Blind Song-bird

106. Gen. 29:13-30:1
107. Gen. 30:1-31:4
108. Gen. 31:4-22
109. Gen. 31:22-55
110. Gen. 32:1-33:1
111. Gen 33; 35:1-28

Je-sus, the Mas-ter Tea-cher

113. A Storm-y Les-son
114. A Sack-ful of Trou-ble
115. Find the Lost
116. The Lost Comes Home
117. A Bill to Pay
118. Emp-ty Bas-kets
119. Sweet-er Than Choc-o-late

113. Matt. 5, 6, 7; Luke 6:31
114. Matt. 13:1, 2, 24-30
115. Luke 15:1-10
116. Luke 15:11-32
117. Matt. 18:21-35
118. Mark 12:1-12
119. Acts 20:35

Josh-u-a at Jor-dan

120. Up Mount Ne-bo
121. March West-ward
122. A Safe Hide-a-way
123. A Safe Foot-path
124. In the Shade of Gil-gal
125. A-round Warm Sup-per Fires
126. Wings at Lunch-time

120. Deut. 31, 34; Josh. 1
121. Josh. 1; 2:1-3
122. Josh. 2:1-21
123. Josh. 2:22-24; 3
124. Josh. 4
125. Johs 5:10-15
126. Ps. 89:1

Josh-u-a at Ca-naan

127. Blow-ing Trum-pets
128. Shiv-er-ing Walls
129. Lit-tle A-i
130. A Great Heart-ache
131. By God's De-cree
132. In a Green Vale
133. The Twelve Cous-ins

127. Josh. 6:1-14
128. Josh. 6:15-27
129. Josh. 7:1-8
130. Josh. 7:7-27
131. Josh. 7:22-8:18
132. Deut. 27:1-8; Josh. 8

Sam-son

134. A Stran-ger in the Field
135. A Lit-tle Sun-beam Grows
136. A Se-cret in the Vine-yard
137. Hope at Har-vest Time
138. "Catch Him!"
139. "Strength-en Me"
140. In the Year 1943

134. Judges 13:1-22
135. Judges 13:22-14:8
136. Judges 14:8-19
137. Judges 14:20-15:8
138. Judges 15:9-16:3
139. Judges 16:4-31

A Friend for Da-vid

141. Eight Broth-ers
142. A Sing-ing Lad
143. One Brave Heart
144. Two Stitched Hearts
145. Claws of Jeal-ous-y
146. Da-vid Be-ware!
147. It Hap-pened in Hol-land

141. 1 Samuel 16:1-12
142. 1 Samuel 16:13-17:20
143. 1 Samuel 17:22-40
144. 1 Samuel 17:41-18:4
145. 1 Samuel 18:6-19:1
146. 1 Samuel 19:1-18
147. Jeremiah 49:11

A Friend for Jon-a-than

148. Two in the Field
149. A Va-cant Seat
150. The Ar-row's Story
151. Da-vid's Hide-a-way
152. "My Broth-er, Jon-a-than"
153. Da-vid Did Not For-get!
154. The Goat Boy's Search

148. 1 Samuel 19:18-20:22
149. 1 Samuel 20:24-34
150. 1 Samuel 20:35-42
151. 1 Samuel 21, 23, 27, 28; Psalm 56:3
152. 1 Samuel 29:6, 2 Samuel 1, 4:4
153. 2 Samuel 3:17-19; 5:1-10; 9:1-13
154. Psalm 115:4; Isaiah 43:15

Jer-e-mi-ah

155. At the Writ-ing Ta-ble
156. "Read to Us"
157. Burn-ing Words
158. Warm Tears
159. God's Word Stands
160. "Trust in Me"
151. A-round the Sun We Go

155. Jeremiah 1:1-8; 36:1-6
156. Jeremiah 7:3, 13; 36:6-19
157. Jeremiah 36:20-32
158. Jeremiah 37:1-17
159. Jeremiah 37:16-38:6; Lamentations 3:56, 57
160. Jeremiah 38:7-28; 39:11-18; Lamentations 5:19
161. Psalm 19:1

Bar-na-bas

162. The Church Fam-i-ly
163. Broth-er Bar-na-bas
164. At the Foot of Snow-caps
165. On a Sun-ny Is-land
166. Up the Mis-sion-ar-y Road
167. Church-es A-long the Path
168. In-side a Mc-In-tosh

162. Acts 2, 4:32-37; 5:1-11
163. Acts 5:12-42; 8:1-14; 9:1-27
164. Acts 11:19-30
165. Acts 12:25; 13:1-12
166. Acts 13:13-14:8
167. Acts 14:8-26
Customers who bought this product also bought