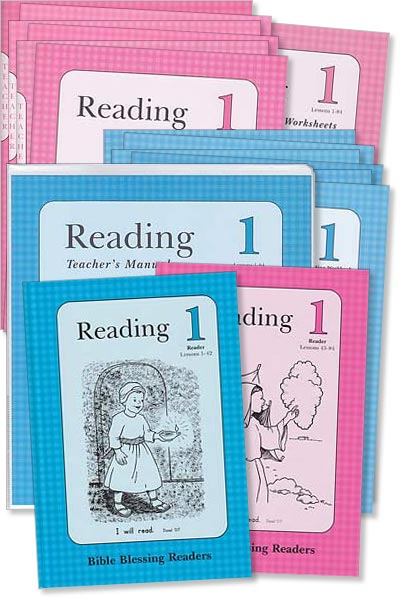 Grade 1 BBR "Reading 1" Set
This course follows Beginning Steps to Reading (BSR), and is designed to be used for the second half of grade 1. It follows the same philosophy and uses much the same teaching approach.
Readers
Simple stories unfold with a vocabulary suitable for the developing child. For every six Bible stories, one story relates to practical life.
Reading Workbooks
An orderly format drills reading comprehension skills and tests the progress of the individual child.
Phonetics-Spelling Workbooks
A thorough phonetic review of the BSR sounds develops into spelling words by syllables.
Flow Chart (½ school year ≈ 90 school days):
Supplementary items (not included):
Teacher's Manual Contents

Flow Chart for Grade 1
List of Materials
Overview of Reading 1
Scope of Phonetics-Spelling
Wall Cards Illustrated
Suggestions for Drilling /b/ and /d/
Teacher Directives

Lesson 1
⋮
Lesson 15
⋮
Lesson 29
⋮
Lesson 43
⋮
Lesson 57
⋮
Lesson 71
⋮

Spelling Dictation Words At-A-Glance
Cluster / Title
Bible Passage
Coats

1. A Coat for a Lad
2. No Coat for Jo-seph
3. Day of Joy
4. A Lit-tle Coat
5. A Lit-tle Boat
6. A Big Sur-prise
7. Five Muf-fins

1. Genesis 35:23-25; 37:3
2. Genesis 37:12-28
3. Genesis 37:31-35, 42:21, 46:5, 29
4. 1 Samuel 1:11, 24-28; 2:18, 19; 3:15
5. John 21:1-3
6. John 21:4-11

Stones

8. Up the Moun-tain
9. Down the Moun-tain
10. The Riv-er That Hushed
11. The Riv-er That Rushed
12. Sad Mar-y
13. Glad Mar-y
14. A Boy in Rags

8. Exodus 24:12-18; 31:18
9. Exodus 32, 34
10. Joshua 1:10; 3
11. Joshua 4
12. Mark 15:33-47
13. John 20:11-16

Pillows

15. A-lone on the Hills
16. I Am With Thee
17. A Wild Wind
18. Be Still
19. Hide Me
20. Un-der His Wing
21. One by One

15. Genesis 28
16. Genesis 28
17. Mark 4:35-38
18. Mark 4:35-41
19. 1 Samuel 26:1-7; Psalm 17:8
20. 1 Samuel 26

Jesus' Hand

22. In the Town
23. Out of the Town
24. Fly-ing Feet
25. A Warm Hand
26. Bump-y and Lump-y
27. Smooth and Clean
28. Hen-ry

22. Mark 8:22, 23
23. Mark 8:22-25
24. Mark 5:21-24, 35-38
25. Mark 5:38-42
26. Luke 5:12
27. Luke 5:12-15

Camels

29. Dust-y Feet
30. Fresh Wa-ter
31. A Cloud of Dust
32. Bless-ings Like Rain
33. Where Is the Star?
34. Where Is the Ba-by?
35. Ra-chel's Se-cret

29. Genesis 24:1-11
30. Genesis 24:12-22
31. Job 1
32. Job 1, 2, 42
33. Numbers 24:17; Matthew 2:1, 2
34. Matthew 2:9-11
35. Psalm 91:4

Dinner

36. In the Tent
37. Un-der the Tree
38. A Hun-gry Boy
39. A Sat-is-fied Boy
40. One Stem, Two Stems
41. A Big Load
42. Mr. Ying

36. Genesis 18:1-6
37. Genesis 18:6-8
38. 1 Kings 17:9-12
39. 1 Kings 17:13-15
40. Ruth 2:2-7
41. Ruth 2:8-21

Windows

43. Win-dows of Heav-en
44. In and Out the Win-dow
45. "Go Out"
46. "Nev-er A-gain"
47. Eyes of Hate
48. Eyes of Love
49. On a Yel-low Stool

43. Genesis 7:7-20
44. Genesis 8:1-13
45. Genesis 3:13-19
46. Genesis 8:20-9:16
47. Acts 9:23-25
48. Acts 9:23-25; 2 Cor. 11:32, 33
49. Matthew 8:14, 15

Prison

50. In the Cook-house
51. Down the Pris-on Steps
52. On a Birth-day
53. Up the Pris-on Steps
54. Could Not Be Locked
55. Could Not Be Stopped
56. A Lit-tle Flag's Task

50. Genesis 40:1-3
51. Genesis 40:4-15
52. Genesis 40:16-22
53. Genesis 40:23; 41
54. Acts 5:14-21
55. Acts 5:21-42; Deuteronomy 25:3

Cloud

57. A New Tent
58. A New Cloud
59. A Bus-y Camp
60. A Ho-ly Hush
61. Six on the Moun-tain
62. A-lone with Je-sus
63. Sing-ing Wes-ley

57. Exodus 19:2; 32:16; 40:1-26
58. Exodus 25:8; 29:45; 33:8-10; 40:34-38; Numbers 9:15, 16
59. Numbers 4:4-13, 24-33; 7:3-9; 9:15-23; 10:11
60. Numbers 10:2, 11-27, 33, 34; Psalm 77:20
61. Matthew 17:1-8; Mark 9:2-8; Luke 9:28-36
62. Matthew 17:1-8; Mark 9:2-8; Luke 9:28-36

Chariots

64. Who Told the Se-cret?
65. Wait-ing Char-i-ots
66. Trapped Like an En-e-my
67. Treat-ed Like a Friend
68. A Scroll in His Hand
69. A Song in His Heart
70. The Bun-dle Be-hind the Seat

64. 2 Kings 6:8-23
65. 2 Kings 6:8-23
66. 2 Kings 6:8-23
67. 2 Kings 6:8-23
68. Acts 8:26-39
69. Acts 8:26-39

Sticks

71. No Sticks on the Sab-bath
72. A Wood-en Ship
73. A Co-zy Fire
74. What Did Not Sail A-way?
75. A Kind Tea-cher
76. A Thank-ful Stu-dent
77. The Or-phan's Fa-ther

71. Numbers 15:32-36
72. Acts 27:13-44
73. Acts 27:44; 28:1-5
74. Acts 28:4-10
75. 2 Kings 4:38-44; 6:1-4
76. 2 Kings 6:1-7

Lambs

78. Late A-gain
79. Why Are You Ear-ly?
80. One Lit-tle Lamb
81. Greed-y Man
82. The King Weeps
83. The Keep Wor-ships
84. Sil-ver Bless-ings

78. Exodus 2:15-21
79. Exodus 2:15-21
80. 2 Samuel 12:1-3
81. 2 Samuel 12:4-6
82. 2 Samuel 12:5-14; Psalm 51:2, 7
83. 2 Samuel 12:15-23; Psalm 51; 103
Customers who bought this product also bought
Customers who viewed this product bought