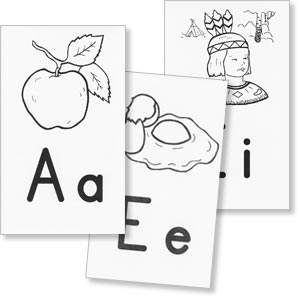 Grade 1 BSR - Alphabet Picture Wall Cards
Designed for Beginning Steps to Reading.
34 cards; 4.25" × 7"
Set of small cards containing the alphabet and some consonant digraphs with a picture to illustrate the sound of the letter(s) on each card. Printed in black on a white background.
Following is a list of what appears on each card.

A a [apple]
E e [egg]
I i [Indian]
O o [oxen]
U u [umbrella]
S s [sun]
M m [mountain]
F f [fish]
R r [rock]
N n [nest]
G g [goat/gate]
B b [bear]
T t [tent]
P p [pig]
D d [donkey]
C c [cup]
K k [kite]
_ck [duck]
L l [ladder]
H h [horse]
J j [jug]
W w [well]
V v [vine]
Q qu [quilt]
Y y [yarn]
Z z [zebra]
sh [sheep]
ch [chick]
_tch [match]
_ng [king]
th [thread]
the th [bee]
wh [whale]
X x [fox]
Customers who bought this product also bought
Customers who viewed this product bought