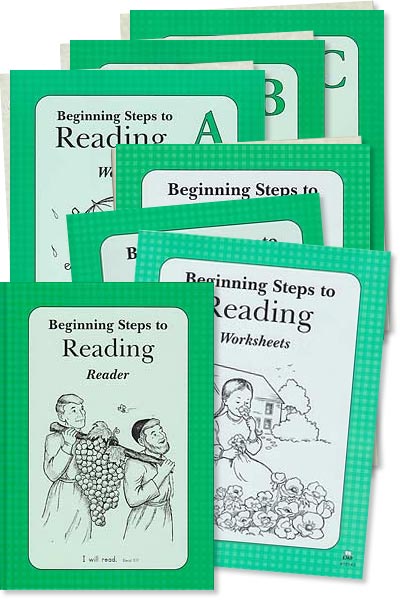 Grade 1 BSR "Beginning Steps to Reading" Set
Beginning Steps to Reading (BSR) provides a systematic, phonetic approach to teaching children to read. The sounds are introduced beginning with short vowels and then consonants from more common to less common. Long vowels come last. By the end of 90 school days (the first half of the year), reading begins. BSR takes a student to this point. After BSR, any course can carry the child into reading skills.
Pupil Workbooks
These workbooks provide 4 detachable pages of exercises per lesson. Each lesson is divided into three basic parts: auditory discrimination, visual discrimination, and comprehension. The final page may be review, a picture to color, or extra practice in a basic skill. There are 3 workbooks of 30 lessons each.
Teacher's Editions
Each workbook has an accompanying teacher's edition which contains directions for the lessons as well as copies of the student pages with answers filled in. These teacher pages are unbound and hole-punched, designed to be placed in a 3-ring binder (not included). Teacher's Edition A also includes a valuable introduction to the course, explaining how all the basic components and teaching aids are to be used together.
Worksheets
These loose-leaf pages provide exercises to reinforce the three basic skills taught in the workbooks, and to develop motor skills. Pasting, cutting, and coloring are employed. After the lesson for the day has been taught, pupils should be able to do the worksheet exercise with very little teacher help.
Word Practice
This book contains words arranged according to sounds, listed in the same order as the sounds are introduced in the lessons. Each page emphasizes a specific sound and should be used after the lesson which introduces that sound. Use the book daily to reinforce the lesson and to cause the pupil to put to practice what has been taught. Use it as a reference book to review when necessary.
Reader
This hardcover book gives the pupil practice in reading sound words in sentence form, to be used after several weeks of phonics instruction. It is made up of 50 sentence-practice sets. In these sets, 318 sound words are introduced and nine sight words. The reader is intended to help the pupil form the habit of attacking words phonetically. Sight words are kept at a minimum so that the pupil is required to use his knowledge of phonetics in actual reading. The 318 sound words are made up of sounds which the pupil has studied in earlier lessons.
Practice Sheets
Approximately four or five practice sheets accompany each lesson. These sheets provide extra practice in the skills that are taught in the daily lessons. They may be used on the same day that the lesson is taught, or at a later date for review. Included are sheets that provided practice in writing the letters for the sounds taught. The Index and Directions for these sheets is bound in a separate booklet.
Flow Chart (½ school year ≈ 90 school days):
Supplementary items (not included):
Teacher Guide Introduction Contents

A. Introduction To This Course
B. Materials Needed to Teach This Course
C. General Suggestions and Explanations
D. Explanation of the Format
E. Explanation of Teaching Aids
F. How to Make Teaching Aids
G. An Overall View of the Course
H. Supplementary Visual Aids
I. What Follows This Course
J. Terms Defined
K. Letter Forms
L. Book A Teacher Guide
Book A
Sounds
Comprehension
Bible Lessons
 
Classification

1. short a
2. short a
3. short e
4. short e
5. short i
6. short i

1. Classifying fruits
2. Classifying tools
3. Classifying foods
4. Classifying zoo animals
5. Classifying Indian objects
6. Classifying buildings

1. Genesis 1:1—God Created the Apple
2. II Kings 6:1-7—The Borrowed Axe
3. James 1:17—The Egg
4. Genesis 6-8—Noah and the Elephants
5. Genesis 2:7; Mark 9:36-37—God Made the Indian
6. James 1:17; Ephesians 5:22-6:3—God Cares About Families

 
Relationships

7. short o
8. short o
9. short u
10. short u
11. s
12. m

7. Relating an animal and its home
8. Relating a part and its whole
9. Relating an object and its use
10. Relating objects used together
11. Relating an object with the weather
12. Relating objects of similar height

7. Job 1:13-22; 42:10-13—Job's Oxen
8. Genesis 1:21; 2:19-20—God Made the Ostrich
9. Jeremiah 32:17—God Can Do Anything
10. Genesis 2:6; 6-8—The First Rain
11. Genesis 1:14-19; Luke 23:44-45—God Made the Sun
12. Exodus 19:7-25—God on the Mountain

 
Following oral directions

13. f
14. r
15. n
16. g
17. b
18. t
19. p

13. Understanding the position word in
14. Understanding the position word below
15. Understanding the position word above
16. Understanding the position word on
17. Understanding the position word after
18. Understanding the position word before
19. Understanding the position word between

13. John 21:1-14—One Hundred and Fifty-Three Fish
14. Exodus 17:1-7—Water From a Rock
15. Matthew 10:29; Deuteronomy 32:11—The Sparrow and the Eagle
16. Judges 16:1-3—Samson and a Gate
17. II Kings 2:23-25—Elisha and Two Bears
18. Genesis 18:1-8—Abraham and Three Visitors
19. Luke 8:26-36—Pigs Run to the Sea

 
Opposite meanings

20. d
21. s helpers sa, se, si, so, su
22. s helpers + final consonants
23. s helpers + final consonants
24. s helper words
25. s helper words
26. m helpers and words
27. m helpers and words
28. f helpers and words
29. r helpers and words
30. n helpers and words

20. Understanding the meanings of big and little
21. Understanding the meanings of sad and happy
22. Understanding the meanings of ugly and pretty
23. Understanding the meanings of up and down
24. Understanding the meanings of alive and dead
25. Understanding the meanings of cold and hot
26. Understanding the meanings of kind and unkind
27. Understanding the meanings of hard and soft
28. Understanding the meanings of empty and full
29. Understanding the meanings of straight and crooked
30. Understanding the meanings of wet and dry

20. Matthew 21:1-11—Jesus Rides on a Donkey
21. Acts 9:36-43—Dorcas and the Widows
22. I Samuel 5:1-5—Dagon Falls
23. Acts 20:7-12—The Boy Who Slept in Church
24. John 11:1-46—Jesus Makes Lazarus Alive
25. Psalm 104:16; 147:8; 74:16—David Sings to God
26. Exodus 2:15-21—Moses Helps Seven Sisters
27. John 5:1-9—Jesus Heals a Lame Man
28. John 6:1-14—A Boy's Lunch
29. Numbers 17:1-10—Aaron's Rod
30. Luke 5:1-8—Simon Fishes All Night
Book B
Sounds
Comprehension
Bible Lessons
 
Story Sequence

1. g helpers and words
2. b helpers and words
3. t helpers and words
4. p helpers and words
5. d helpers and words
6. c and k helpers and words
7. helpers + ck
8. l helpers and words
9. h helpers and words
10. helpers + 2 consonants

1. Exodus 14:19-15:22—God Makes a Path in the Sea
2. Mark 2:1-12—Friends Help a Sick Man
3. Luke 15:8-10—The Lost Coin
4. II Kings 4:38-41—Death in the Pot
5. Daniel 6:4-24—Daniel and the Lions
6. Genesis 40:1-13, 20-21‐Joseph in Prison
7. Matthew 7:24-27—The Two Houses
8. Genesis 28:10-22—Jacob's Ladder
9. Esther 3 and 6—Proud Haman
10. Luke 17:11-19—Ten Lepers

 
Outlining

11. review
12. j helpers and words
13. w helpers and words
14. v and q helpers and words
15. y and z helpers and words
16. sh helpers and words
17. ch helpers and words
18. helpers + ng and nk
19. th and th helpers and words
20. wh helpers and words

11. Genesis 1:14-18—God Made the Sun
12. Genesis 3:1-24—Adam and Eve
13. Genesis 1:20-23—God Made Fish
14. Genesis 1:11-13—God's Perfect Creation
15. Genesis 2:21-23—How God Made Eve
16. I Samuel 17:34-36—David Kills a Bear
17. Matthew 6:28-34—God Dresses the Fields
18. Matthew 6:26—God Cares for the Birds
19. Luke 15:4-7—The Lost Sheep
20. Genesis 26:18-22—Isaac's Wells

 
Inferring from context

21. helpers + x
22. suffixes: s, 's, es, ed
23. compound words; 2-syllable words
24. initial blends: bl, cl fl gl, pl, sl
25. initial blend words using sl, pl, gl
26. initial blends: sc, sk, sm, sn, sp, st, sw; words using sc, sk, sm, sn
27. initial blend words using sp, st, sw
28. initial blend review
29. long a with final silent e; long e with final silent e; words using this vowel
30. long i with final silent e; words using this vowel

21. Daniel 6:16-23—What an Angel Did
22. Genesis 1:20-23—God Made the Duck
23. Exodus 8:1-14—Frogs in Egypt
24. Matthew 7:24-27—God Made Sand
25. I Samuel 2:18; 3:15—Samuel Helps
26. II Kings 5:1-14—A Slave Girl Helps
27. Jonah 4:1-10—Jonah and the Vine
28. Luke 16:19-31—The Rich Man and the Beggar
29. Exodus 8:20-32—Flies in Egypt
30. Jonah 1-2—Jonah and the Fish
Book C
Sounds
Comprehension
Bible Lessons
 
Relationships

1. long o with final silent e; long u with final silent e; words using these vowels
2. short and long vowel review
3. final long e and o words (be, no, and so forth.)
4. long o and i: old, olt, ost oll, oth, int, ind, ild; words using these vowels
5. initial blends: br, cr, dr, fr, gr, pr, tr; words using br and cr
6. initial blend words using dr and fr
7. initial blend words using gr, pr, tr
8. initial blends using long vowels
9. vowel digraphs: ai, ay; words using these vowels
10. vowel digraphs: ee, ea; words using these vowels

1. Mark 6:34-44—A Thankful Lad
2. Acts 16:19-40—Sing in Prison
3. Exodus 2:1-9—Baby Moses
4. I Samuel 17:1-58—David Kills Goliath
5. Acts 27:13-44—The Shipwreck
6. Matthew 17:24-27—Peter and Tax Money
7. Matthew 23:27—A Hen and Her Chicks
8. I Samuel 25:18-35—Kind Abigail
9. Matthew 24:27—When Jesus Comes
10. Genesis 1:11-13; Psalm 106:1—God Gives Food

 
Story sequence

11. vowel digraphs: oa ow, oe
12. vowel digraph ie; final vowel y; words using theses vowels
13. irregular vowel digraphs: ea, ie; words using these vowels
14. 2-syllable short vowel words ending ing
15. 2-syllable long vowel words ending ing
16. modified vowels: ar, or; words using these vowels
17. modified vowels er, ir, ur; words using these vowels
18. 2-syllable words ending with the suffix er
19. prefix a; and 2-syllable words
20. diphthongs: ou ow; words using these sounds

11. Luke 15:11-32—The Prodigal Son
12. Exodus 17:1-7—Thirsty People
13. II Samuel 9:1-13—King David and Mephibosheth
14. Numbers 13:1-33—Joshua and Caleb
15. Joshua 7:19-26—Achan Steals
16. Genesis 37:23-28—Joseph is Sold
17. Luke 2:1-7—Jesus is Born
18. Luke 10:30-36—The Good Samaritan
19. Acts 12:1-17—Peter in Prison
20. Luke 19:1-9—Zacchaeus Sees Jesus

 
Following written directions

21. diphthongs: oi, oy
22. 2-syllable final y words
23. vowel digraphs: o͝o o͞o; words using these vowels
24. vowel digraphs: ew, ue; words using these vowels
25. controlled a: aw, au, al, all; words using these vowels
26. silent letters: igh, kn, wr, mb; words using these vowels
27. soft c: ce, ci, cy; words using this sound
28. soft g: ge, gi, dge; words using this sound
29. se, ph, final le; words using this sound
30. tion, sion, sure; words using these sounds

21. Mark 4:36-41—Jesus Stills a Storm
22. Matthew 2:7-12—Wise Men and the Star
23. Joshua 2:1-24—Rahab and the Spies
24. Daniel 3:1-30—Three Hebrew Boys
25. I Kings 18:41-46—Elijah and the Cloud
26. II Kings 4:1-7—The Widow's Oil
27. II Kings 4:8-17—A Room for Elisha
28. I Kings 17:1-6—Elijah Fed by Ravens
29. Judges 6:33-40—Gideon and the Fleece
30. II Chronicles 20:12-22—Praising God
Customers who bought this product also bought
Customers who viewed this product bought