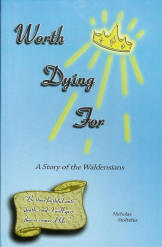 Worth Dying For: A Story of the Waldensians
Paper cover
248 pages
0.64 lbs
Item #5-6636
A lone soldier came riding to the door of Perry's cabin. He summoned Perry outside, and gravely read the edict which had been passed.
Be it hereby known that every member of that false sect known as the Waldensian is commanded to appear before the burgomaster at ____, within three days of the reading of this edict; and shall there solemnly swear under oath that he will from henceforth and for the remainder of his life, regularly attend holy Mass, and will do all within his power to have his children also in attendance.
Any person who obstinately refuses to take this oath of allegiance to the holy mother church, be it known that his property, goods, and chattels will immediately be confiscated, and he and his house will be put to the sword, as is a fit death for all such heretics.
"Did you understand what I read?" asked the soldier.
"Yes," spoke Perry with bowed head, "I understood it."
At first the Waldensian could scarcely believe what they had heard. Surely, there must be a mistake. The only course left to them would be to flee to the mountains. This, in the dead of winter, would be tragedy.
Contents

Author's Introduction
Chapter 1 - An Exciting Day
Chapter 2 - Nanny to the Rescue
Chapter 3 - God Takes Away
Chapter 4 - Unexpected Visitor
Chapter 5 - Plans That Failed
Chapter 6 - The Schemes of the Wicked
Chapter 7 - Clyde Jeanviller
Chapter 8 - God Giveth
Chapter 9 - The Trials of Perry
Chapter 10 - Souls Won for the Kingdom
Chapter 11 - End of a War
Chapter 12 - Searching for the Light
Chapter 13 - A Waldensian Meeting
Chapter 14 - Jim Goes Over the Mountain
Chapter 15 - Joys and Sorrows
Chapter 16 - New in the Faith
Chapter 17 - Departure of the Dobberstens
Chapter 18 - A Den of Thieves
Chapter 19 - A Strange Land
Chapter 20 - Homeward Bound
Chapter 21 - Distant Relatives
Chapter 22 - Watering the Plants
Chapter 23 - The Storm Breaks
Chapter 24 - No Turning Back
Chapter 25 - The Last Days of Perry
Chapter 26 - The Final Invitation
Chapter 27 - Ordeal on the Mountain
Chapter 28 - Journey's End
Chapter 29 - A Mountain Home
Chapter 30 - This World's Riches
Chapter 31 - Winter Comes Again
Chapter 32 - Sending the Light
Chapter 33 - Jim's Return Trip
Chapter 34 - The Wrong Road
Chapter 35 - The Call to Maturity
Chapter 36 - What God Hath Joined Together
Chapter 37 - Another Responsibility
Chapter 28 - A New Dawn
Customers who bought this product also bought
Customers who viewed this product bought