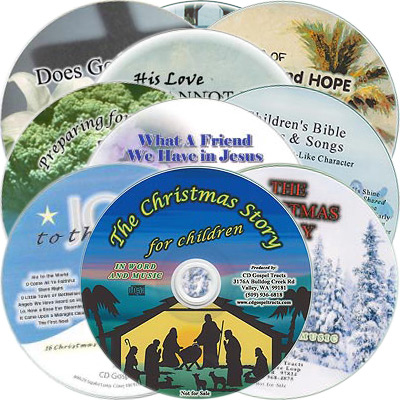 Sampler Set of 10 Audio CD Tracts
Paper envelope cover
0.36 lbs
Item #49-CD--
Sharing the Gospel of Jesus Christ in Word and in Song
Each of these tracts may be purchased individually at bulk rates.
Here is a unique and exciting way to share the Good News of Jesus Christ. Take advantage of the huge popularity of portable, car, and home CD players.
Paper tracts have always been an effective way to spread the Gospel. CD Gospel Tracts takes this concept to another level by producing audio CD's with gospel singing and/or a salvation message for distribution in your outreach efforts.
Features:
can be played in any CD player
music is a cappella
scripture readings are from the King James Version
These CD gospel tracts are excellent for street ministry, track racks, home visitation or wherever you would typically use paper tracts. Each CD is placed in a white paper envelope with a clear window. This design allows you to stamp your information on the back or stuff additional literature inside.
Customers who bought this product also bought