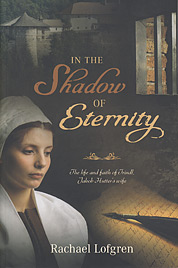 In the Shadow of Eternity
Paper cover
256 pages
0.76 lbs
Item #41-3244
The 1500s were a time of great upheaval—a time of change. As people tired of the oppression of the ruling state church, they began to rebel, demanding more freedom.
Although this rebellion was quickly squashed, the hunger for a new and living faith in God led to the rise of the Anabaptists. Despite horrible persecution, the movement spread like wildfire.
Trindl was a young woman caught in these tumultuous times. As she sought to follow the Lord, she faced unspeakable difficulties. Little did she realize that the name and legacy of her husband, Jakob Hutter, would still be known centuries later.
Nor would she and Jakob have cared. Always in danger, with their lives in the very shadow of eternity, their goal was simply to follow Christ—regardless of the cost.
Here in America, we live in prosperous times. We have freedom to worship God as we please, to attend the church of our choice. We can live openly without fear of reprisal. We have so much.
It was not always so.
Table of Contents

[maps]
Author's Note
1. Whispers of Revolt
2. The Spark
3. Plunder in God's House
4. Michael's Promised Land
5. Fallen Sons
6. Flee to the Mountains
7. The Bridge
8. The Shepherd's Hut
9. To Drink This Cup
10. Into the Dungeon
11. If Faith Should Fail
12. The Penitents
13. A Sliver of Sky
14. The Healer's Quest
15. Under the Stars
16. Comfort in the Beloved
17. The "Pious" People
18. Grapes of Wrath
19. The Way of a Man
20. From Home to Heath
21. A Letter to the Governor
22. Whithersoever Thou Goest
23. Through the Mountain Ranges
24. Written in My Heart
25. Struggles
26. Perilous Times
27. The Horrible Raging Dragon
28. Travel by Night
29. St. Andrew's Eve
30. The Confession
31. Little Anna Agnes
32. The Fiery Furnace
33. Loss on Loss
34. The Escape
35. Year of Hiding
36. Klaus's Commission
37. Unquenchable Love
Epilogue
The Broken Fragments Memorial
About the Author
Customers who bought this product also bought
Customers who viewed this product bought