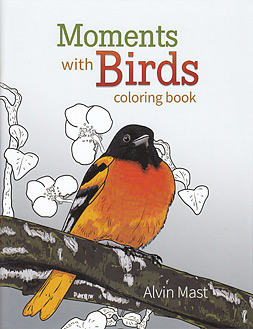 Moments with Birds - Coloring Book
Paper cover
52 pages
0.296 lbs
Item #41-3230
Also available in this set.
Features 37 species of birds.
Birds seem to be the most cheerful creatures on earth. Even though they do not have a house to live in and must go searching to find something to eat, they always seem cheerful. We can learn much from them. The Bible says, "Consider the ravens: for they neither sow nor reap; which neither have storehouse nor barn; and God feedeth them: how much more are ye better than the fowls?"
I hope you enjoy coloring these birds. God has made them very beautiful. Keep your eyes open when you go outside, and you might see one of the birds you have colored!
King Rail
Purple Gallinule
Sandhill Crane
Black-necked Stilt
American Woodcock
American Bittern
Great Blue Heron
Green Heron
Roseate Spoonbill
Osprey
Bald Eagle
Red-shouldered Hawk
Crested Caracara
Greater Roadrunner
Yellow-billed Cuckoo
Burrowing Owl
Red-headed Woodpecker
Red-bellied Woodpecker
Pileated Woodpecker
Scissor-tailed Flycatcher
Blue Jay
Tufted Titmouse
Cactus Wren
Brown Thrasher
Cedar Waxwing
Phainopepla
Yellow Warbler
Ovenbird
Chipping Sparrow
Eastern Meadowlark
Baltimore Oriole
Red-winged Blackbird
Western Tanager
Northern Cardinal
Rose-breasted Grosbeak
Painted Bunting
Dickcissel
Customers who bought this product also bought
Customers who viewed this product bought