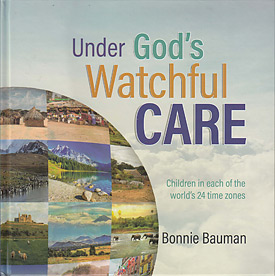 Under God's Watchful Care
Hard cover
72 pages
1.15 lbs
Item #41-3225
Children in each of the world's 24 time zones
Fasten your seatbelts. We'll go all the way around the world—and come back at the same time we started.
In this book we will meet 24 children who live in 24 different time zones. It will be midnight in one place, 1:00 a.m. in another, and so on. At each stop, we will explore the country and find out how the people live.
In some places it is nighttime, and the people are sleeping—but God is not. He is always awake. No matter where we live, or what time of day it is, we are always under God's watchful care.
Introduction
Time Zones of the World

Baker Island (12:00 a.m.)
American Samoa (1:00 a.m.)
Hawaii (2:00 a.m.)
[oceans, islands]
Alaska (3:00 a.m.)
British Columbia (4:00 a.m.)
Mexico (5:00 a.m.)
Nicaragua (6:00 a.m.)
Pennsylvania (7:00 a.m.)
[North America, Central America]
Chile (8:00 a.m.)
Brazil (9:00 a.m.)
South Georgia Island (10:00 a.m.)
Cape Verde (11:00 a.m.)
[South America, Antarctica, Atlantic Ocean]
Ireland (12:00 noon)
Netherlands (1:00 p.m.)
[Europe]
Egypt (2:00 p.m.)
Kenya (3:00 p.m.)
[Africa]
Azerbaijan (4:00 p.m.)
Pakistan (5:00 p.m.)
Bangladesh (6:00 p.m.)
Laos (7:00 p.m.)
China (8:00 p.m.)
Japan (9:00 p.m.)
Australia (10:00 p.m.)
Siberia (11:00 p.m.)
[Asia, Australia]
Customers who bought this product also bought
Customers who viewed this product bought