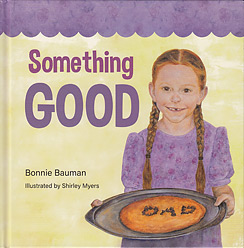 Something Good
Hard cover
56 pages
0.692 lbs
Item #41-3220
Seven-year-old Krista was bored. What could she do to be helpful when she was so much younger than her brothers and sisters? Sometimes it seemed she was not really needed.
One day when she was memorizing her Bible verse, "Let us do good unto all men," she had an idea. I know what I'll do, she thought. It will be a lot of fun! Excitedly she began to make plans.
No longer did Krista feel bored and useless. Through it all, she learned an important secret—making others happy makes us happy too.
Customers who bought this product also bought
Customers who viewed this product bought