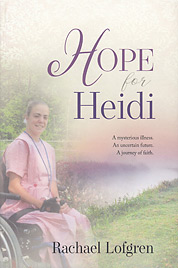 Hope for Heidi
Paper cover
250 pages
0.966 lbs
Item #41-3217
A mysterious illness. An uncertain future. A journey of faith.
"Heidi, we need you to stay with us. Come on. Wake up." The paramedic's hand was firm on her shoulder, and his voice sounded loud through her headset.

Heidi pushed against the weight of her eyelids and the pressure of his hands and voice. The midnight darkness outside the windows pushed back. Her body was heavy. So heavy.
That morning Heidi had been a carefree eleven-year-old bustling around and skipping off to school. But by evening she was flat on her back in the hospital, unable to move her legs. What could have gone wrong?
The enemy was eventually identified, but the doctors gave little hope. Barring a miracle, Heidi Weaver would spend the rest of her days in a wheelchair.
As Heidi faced the changes and uncertainties in her life, she could have despaired. But she chose not to. Instead, she found hope for the future and joy for each day by trusting God and serving others.
Table of Contents

1. Potato Chips Paralysis
2. Breathe Deeply
3. Am I Going to Die?
4. The Call Button Monkey
5. Never Again
6. Painful Progress
7. Riddles and Worms
8. Hospital Picnic
9. Supercalifragilisticexpialidocious
10. Helping Myself
11. Adjustments
12. A Chocolate Reward
13. Whatever God Chooses
14. Coming Home
15. Summer
16. Just Do the Next Thing
17. Camp of Refuge
18. Growing in a C Shape
19. "For Thou Art With Me"
20. Under the Knife
21. A Meager Feast
22. Too Slow
23. Home for Christmas
24. Never Alone
25. Another Step
26. Phase Two
27. Natural Bridge
28. A Hard Winter
29. In Her Own Words
30. Only Clear Liquids
31. A Trying Day
32. Compromise
33. New Friends
34. If You Hold My Hand
35. Singing at Sea
36. Half Moon Cay
37. Paradise Island
38. Storm at Sea
39. The Matchless Pearl
40. Surprise Sixteen
41. Jamaica
42. Graduation Day
43. Job Hunting
44. Independence Boot Camp
45. Taking the Wheel
46. "God, You Are Faithful"
A Note From Hedi's Mom
About the Author
Customers who bought this product also bought
Customers who viewed this product bought