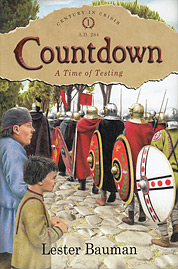 Countdown: A Time of Testing (Book 1) - "Century in Crisis Series"
Paper cover
320 pages
1.144 lbs
Item #41-3202
Mark had heard stories about persecution in the past, but it didn't seem real. All he had ever known was peace, and in his youthful innocence he did not realize how quickly things could change.
In AD 284, Diocletian was crowned emperor of Rome. Almost two decades later, soon after Mark was ordained a presbyter, the emperor unleashed his fury on the church. It was a time of suffering and testing—the worst persecution Christianity had ever faced. Mark and his wife were caught right in the middle.
They had a choice. They could give up their faith and live. Maybe even prosper.
Or they could stand firm. And die...
---
This is Book One of the four-part Century in Crisis series. This series brings to life a tumultuous time in the history of Christianity. It was a time of deception, and the forces of evil tried every possible way to destroy the faith of true believers. Alternating between freedom and persecution, the Christian church struggled to remain faithful to the teachings of Christ.
We too live in deception times, and the tactics are still the same. What can we learn from the experiences of the early Christians? How can we remain faithful in our day?
Table of Contents

Historical Characters
Fictional Characters
History Is as History Does

Part I: A New Emperor

Part II: New Ideas

2. April 285
3. July 285
4. August 285
5. November 285

Part III: Can Emperors Be Gods?

Part IV: Dividing the Empire

Part V: Teaching Latin

9. June 295
10. August 295
11. A.D. 296-300

Part VI: Ominous Rumblings

12. A.D. 299
13. March 302
14. Autumn 302

Part VII: The Volcano Erupts

15. January 303
16. Late February 303
17. March 303
18. April 303
19. A.D. 311

Epilogue

Bibliography
About the Author
Customers who bought this product also bought
Customers who viewed this product bought