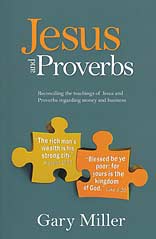 Jesus and Proverbs
Paper cover
120 pages
0.368 lbs
Item #41-3194
Reconciling the teachings of Jesus and Proverbs regarding money and business
The book of Proverbs provides lots of advice that can be useful in managing our finances or running a business. It not only tells us how we can obtain wealth, but also that it can be a blessing in our lives. We read that "The poor is hated of his own neighbor; but the rich hath many friends," and we end up with the feeling that rich people are blessed and the poor are not.
But when we turn to the teachings of Jesus, we read something quite different. "Blessed be ye poor," Jesus told His followers. And, "How hardly shall they that have riches enter into the kingdom of God!" It is an entirely different message—and certainly doesn't sound as if riches were a blessing!
So what are we to do? Can the Old Testament teachings regarding wealth and business be reconciled with the teachings of Jesus? How should we view money? What is God's will for us today?
This book, an expanded version of section in the book It's Not Your Business, tries to answer these questions.
Table of Contents

Introduction
1. How Involved Should we Be?
2. Three Men—One Church
3. Differing Perspectives
4. The Bible Says...
5. Examining Our Motives
6. The Message of Proverbs
7. What Did Jesus Say?
8. Understanding the Differences
9. Reconciling Proverbs and Jesus
10. The Kingdom at Work
11. Attributes of a Kingdom Business
12. Business Dilemmas—Kingdom Perspective
13. Needed: Real-Life Illustrations
Endnotes
About the Author
Additional Books by Gary Miller
Customers who bought this product also bought
Customers who viewed this product bought