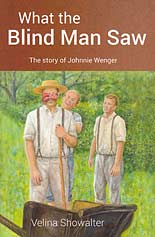 What the Blind Man Saw
Paper cover
128 pages
0.372 lbs
Item #41-3182
The story of Johnnie Wenger
"I've been thinking," began Johnnie as he tied the knots to hold the thread in place on the broom he was making.

"I don't doubt that," interrupted Papa dryly. "I can't keep up with your ideas. What am I to expect next?"
John S. Wenger made his home in the fertile farmland of Lancaster County, Pennsylvania, during the late 1800s and early 1900s. Born blind in one eye, he lost sight in the other at the age of twenty-two. It was a hard blow, but Johnnie was not one to give up.
Blind Johnnie learned to make brooms and assemble farm equipment, especially binders. He liked new inventions and understood machinery. He was a big help to the farmers in his neighborhood.
Blind Johnnie also helped with the Mennonite mission on Welsh Mountain. In his older years, he was delighted to learn to read the Bible with his own fingers. Determined, cheerful, and content with what God planned for his life—that was blind Johnnie Wenger.
See also:
Table of Contents

1. Blindness and Broom Making
2. Moving to Weaverland
3. The New Shop and Store
4. The Wheelbarrow and New Ideas
5. The Binder Business Begins
6. Binder Troubles
7. A Bigger Store and Broomshop
8. Trips, Trolleys, and a Telephone
9. Needs on Welsh Mountain
10. Changes
About the Author
Customers who bought this product also bought
Customers who viewed this product bought