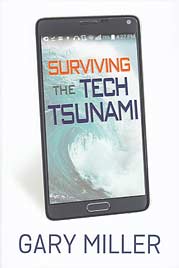 Surviving the Tech Tsunami
Paper cover
240 pages
0.858 lbs
Item #41-3167
Electrical technology is not just a spot of rough water the church must navigate; it is a virtual tsunami.
Electronic technology is taking our culture by storm. This is having a profound effect, not just on society at large, but on our occupations, our families, and our personal lives. It is also having a tremendous impact on our churches. As followers of Jesus in these last days, how concerned should we be?
Technology offers some obvious benefits, such as enabling Christians to reach out to the lost around the globe in ways that men like the Apostle Paul could never have imagined. But does the good offset the evil?
Gary Miller interviewed church leaders and youth across the conservative Anabaptist spectrum. Learn with him how different groups are dealing with electronic technology—what is working and what is failing dismally. What do church leaders think is happening in their congregations, and what do their youth know is actually occurring?
This behind-the-scenes glimpse at the cultural upheaval caused by technology should serve as a sober wakeup call and help our families and churches weather the tech tsunami.
See also:
Table of Contents

Part One: Change—The Historical Battle

1. The Tech Tsunami
2. Where Will This Lead?
3. Defining Technology
4. Categorizing Technology
5. Technological Change: Different Perspectives
6. Are All Tools Created Equal?

Part Two: Is Something Else Happening Here?

7. Vital Relationships: The Core of Who We Are
8. God and Google
9. Connected and Lonely
10. Media Matters
11. A Sound-Bite Society
12. Brain Change

Part Three: Deadly Diversions

13. Digital Distractions
14. Seduced by Sight and Sound
15. Entertainment—Changing Our Views and Values
16. Pop Culture versus Kingdom Culture
17. "Being Bored Is Boring!"
18. Circumventing God's Design

Part Four: Where Are We?

19. The Current Quandary
20. Just Say No
21. Just Focus on Biblical Principle
22. Technology and Our Concepts of Church
23. The Scourge of Porn
24. What Are We Listening To?

Part Five: Re-Evaluating Our Course

25. Electronic Seduction
26. Opportunity of Our Day
27. How Should Churches Prepare?
28. Higher Ground

Endnotes
About the Author
Additional Resources by Gary Miller
Bibliography
Customers who bought this product also bought
Customers who viewed this product bought