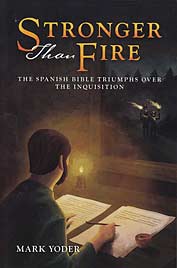 Stronger Than Fire
Paper cover
374 pages
1.304 lbs
Item #41-3155
The Spanish Bible Triumphs Over the Inquisition
Few people realize that while the Reformation was altering the face of central Europe, a parallel movement was underway in Spain. It was inspired by brave people who dared to study and practice the Bible in the face of intense opposition from the Catholic Inquisition.
Among the leaders of the Spanish Reformation was Casiodoro de Reina, a man who passionately wanted to provide the people of Spain with the Bible in their own language. During the twelve years he spent translating the Bible, the Inquisition ruthlessly hunted him in an effort to destroy his work. As Casiodoro fled from country to country across Europe in search of safety, the Inquisition imprisoned, tortured, and burned his fellow believers, determined to suppress the spread of God's Word.
Despite all their efforts, Casiodoro completed his translation at last, and it became the foundation for the Bible that is still read by millions of Spanish-speaking believers today. The gripping story of Casiodoro de Reina's mission is one of adventure, betrayal, suffering, endurance, and death. Most of all it is a story of triumph—the triumph of God's Word that is stronger than fire.
Table of Contents

Timeline
Map of Sevilla
Map of Europe
Introduction
1. The God of the Mass
2. The Friendly God
3. Columbus—Faith or Riches?
4. Trip to Sevilla!
5. Market in Sevilla
6. The Catholic Preacher
7. Struggles
8. A Second Trip to Sevilla
9. New Life in Sevilla
10. New Life in Montemolín
11. The Colegio de la Doctrina de los Niños
12. The University of Sevilla
13. The Birth of a Church
14. The Opposition Intensifies
15. The San Isidro Monastery
16. The Monastery Revival
17. Juan Gil's Capture
18. Juan Gil's Auto-deFé
19. Charles V and the "Heretics"
20. Escape over the Pyrenees
21. Freedom in Geneva
22. The Print Shop in Geneva
23. Conflict in Geneva
24. Geneva, Frankfurt, London
25. London
26. Inquisition Prison
27. Auto-de-fé, 1559
28. Surprised by Love
29. The Accuser's Work
30. Antwerp
31. Autos-de-Fé, 1560 and 1562
32. The Final Years
33. Printed at Last
Epilogue
Pronunciation Key
Acknowledgements
About the Author
Customers who bought this product also bought
Customers who viewed this product bought