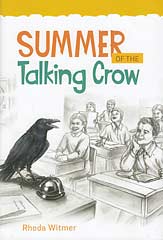 Summer of the Talking Crow
Paper cover
88 pages
0.276 lbs
Item #41-3147
"Louise! Come see what I found!" Daddy called as he strode from the barn. He cuddled something in his hat. Ranger trotted behind him, sniffing and wagging his tail. He wanted what Daddy had.

"What do you have?" eight-year-old Louise asked, bursting with curiosity. In her hurry, she splashed right through a mud puddle. Muddy water drops splashed onto her blue dress, but she did not notice.
Join Louise and her family through the adventurous summer of raising a crow and teaching it to talk. This true story, written for primary-age readers, will captivate the whole family.
Table of Contents

1. A Surprise
2. Talking Lessons
3. A New Nest
4. JoJo Plays Snatch
5. The Willow Tree House
6. The Discovery
7. JoJo the Tease
8. JoJo in Trouble
9. JoJo Visits School
10. JoJo Likes to Ride
11. Trouble in the Trunk
12. The Accident
Customers who bought this product also bought
Customers who viewed this product bought