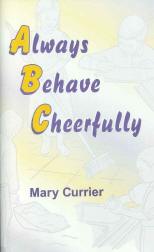 Always Behave Cheerfully - Activity Book
Paper cover
28 pages
0.12 lbs
Item #4-334156
Do your children work cheerfully? Parents encourage cheerful responses when they:
understand the importance of building loving relationships.
understand the child's delight in doing things with and for his parents.
demonstrate a task patiently, then let the child "help."
commend the child for his willingness and his performance.
permit the child to tackle work independently after helping him experience success in an activity.
provide a cheerful climate by singing, telling stories, and laughing while playing or working with their children.
And this coloring book can help. In addition to teaching the alphabet and coloring skills, this ABC coloring book teaches important lessons in cheerful behavior.
Customers who bought this product also bought
Customers who viewed this product bought