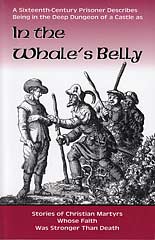 In the Whale's Belly - and Other Martyr Stories
Paper cover
130 pages
0.42 lbs
Item #4-274015
In the Whale's Belly is a book of stories about men and women who struggled with the great questions of life. They found their answers in loving and obeying Jesus Christ.
Most of the stories are from the time of the Reformation. At that time a group of Christians, called Anabaptists, were willing to forsake all and follow the teachings of Jesus.
The Anabaptists were called heretics by their enemies. But they were not heretics. They merely tried to follow Jesus in all things, even if it meant going contrary to what men taught at the time. The New Testament was their standard.
The stories are selected and retold from the Martyrs Mirror, a book the Anabaptists wrote. The engravings are also taken from books from the same time. If you want to learn more about the Martyrs Mirror turn to the last chapter of this book.
Contents

I. In the Whale's Belly

1. News
2. Fire in the Veerle Square
3. Six Letters
4. Secret Meeting in the Woods
5. The Whale's Belly
6. "If Any Man Ask of Thee..."
7. Fire Again
8. Prisoner
9. Glance From the Stake

II. Bishop Eaten by Lions
III. In the Arena
IV. Ordeal by Fire
V. All Things Work Together
VI. A Brave Sister
VII. He Kept His Hat On
VIII. Family Forsaken
IX. Through the Eye of a Needle
X. He Had a Heavenly Mansion
XI. Unwilling Betrayer
XII. What Is the Martyr's Mirror?
Customers who bought this product also bought
Customers who viewed this product bought