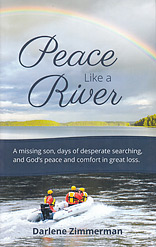 Peace Like a River
Paper cover
141 pages
0.424 lbs
Item #4-265530
A missing son, days of desperate searching, and God's peace and comfort in great loss.
No one foresaw tragedy when Curtis Martin and some friends embarked on their annual canoe trip on the Susquehanna River. But overnight the peaceful river turned into a raging monster.
Curtis studied the river. How long would they be stranded at their campsite if they waited until the river dropped? "Let's go!" he exclaimed. No one objected. The decision was made.
All went smoothly at first; the challenge was invigorating. Curtis liked this kind of workout where he could give it all he had. He and his canoe partner, Kevin, were ahead of the rest when the accident happened.
Back home, Curtis's parents recoiled at the shocking news that their son was missing. For eight long, heart-wrenching days, volunteers watched the river and rescue workers worked tirelessly. As hope faded of finding their son alive, Cloyd and Dorcas were uplifted by God's peace and the help and comfort of family and friends.
May this true story inspire you with the sureness of God's mercy and faithfulness in times of great distress and grief.
Customers who bought this product also bought
Customers who viewed this product bought