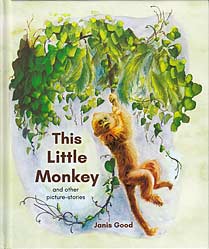 This Little Monkey - and Other Picture-Stories
Hard cover
52 pages
0.664 lbs
Item #4-265420
"See! I can read!" That's what children like to say.
The stories in This Little Monkey use pictures in place of some words. Young children love to follow picture-stories with their fingers. When the reader pauses at a picture, the child can say the word.
This Little Monkey helps your children get started with words and books and learning about life and God's world. Try it and see!
Table of Contents

1. Not My Birthday
2. Baby Bear Takes a Walk
3. The Wind
4. Snow Fun
5. Christmas Gifts
6. Something Sweet
7. Chickens
8. Way Up High
9. Down By the Creek
10. This Little Monkey
11. Dust Bunnies
12. Poky Truck
13. Something Special
14. The Accident
15. Going to Church
16. Stormy Waters
17. Sky Colors
Customers who bought this product also bought
Customers who viewed this product bought