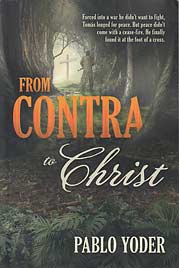 From Contra to Christ
Paper cover
195 pages
0.742 lbs
Item #4-265370
Forced into a war he didn't want to fight, Tomás longed for peace. But peace didn't come with a cease-fire. He finally found it at the foot of a cross.
Tomás enjoyed a carefree childhood in the rough mountains of northern Nicaragua. As a boy he went to church with his mother and decided he wanted to follow God.
But growing political unrest erupted into civil war. Despite having a conscience against killing, Tomás was forced to join the Contra rebels and was swept into a maelstrom of fear and battle, hunger and loneliness, and grief for fallen comrades.
When it was over, Tomás was scarred by war. Drifting far from God, he failed to keep the promises he had made during moments of wartime terror. Tomás became an expert chain saw operator, but he also became enslaved to drink. His addiction nearly destroyed his home and wrecked his life.
Then visitors arrived in Waslala, bringing the Gospel of peace. They learned to know Tomás and liked the excellent work he did when he was sober. Little by little, their words and prayers began to affect Tomás's cold heart. At the foot of the cross, he found forgiveness and true peace. From Contra to Christ is Tomás's story.
Contents

Introduction
1. Carefree Boy of La Lana
2. Rumors of War
3. Terror in El Achiote
4. Army Life
5. Interrupted Church Service
6. Comrades Down
7. A Mother's Prayer
8. To Honduras for Shoes
9. A Break From War
10. Torn Between Two
11. On the Other Side
12. Thatched-Roof Shack
13. Porfirio Lopez
14. Follow the Leader
15. Deck Soup
16. I'm Not Gonna Die!
17. We're Leaving Together
18. A prayer for a Drunk
19. A Drunkard's Decision
20. A Drunkard's Deliverance
21. To Study War No More
Customers who bought this product also bought
Customers who viewed this product bought