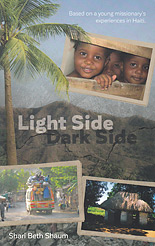 Light Side, Dark Side
Paper cover
284 pages
0.684 lbs
Item #4-265305
Based on a young missionary's experiences in Haiti.
During a childhood visit to Haiti, a deep longing was planted in the author's heart to sometime return and serve there. And she did!
As a missionary years later, Shari Beth encountered much darkness. But there were also pockets of light, people—like Jock—aglow with the joy of the Lord. Jock lived in a tiny windowless room. With no family, he was at the mercy of others. Though his aged body was failing, Jock often sang heartfelt praises to God, tears trickling down his face.
Just down the hill from Jock's house was a dark scene. A party was in the making. Children dashed to greet Shari Beth, clutching her skirt and grinning. In the center of a red flag waving overhead was a single word—Rah-Rah, the native word for Satan worship.
---
Light Side—Dark Side opens a window into Haitian culture and shows the contrast between God's power and Satan's bondage. Whether it was bandaging wounds in the clinic, bargaining at the market, or worshiping in church, the author cared for everyone she met. Her burden was that they all would be brought from darkness into light. That burden will touch your heart as well.
Contents

Acknowledgments
Glossary
Preface
Introduction—The Calling
1. Light Side—Dark Side
2. When Transportation Is Needed
3. Drugs and Police
4. Reaching the Children
5. Prison Miracles
6. Superstitions
7. The Power of God's Seminar
8. Unrest Within and Without
9. An Unwelcome Welcome
10. Power in the Name of Jesus
11. Bread, Coffee, and Zombies
12. One Thousand Crosses
13. Cholera
14. The Christmas Miracle
15. Jesus Loves the Deaf
16. Clinic for Them and Me
17. Thrice Saved
18. Dog Alert
19. An Eternal Choice
20. A Silver Lining
21. Because an Angel Pushed
22. His Grace Is Sufficient
23. God Has Big Hands
24. Trapped in Darkness
25. From Darkness to Light
26. A New Day Dawning
Customers who bought this product also bought
Customers who viewed this product bought