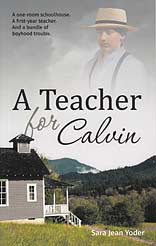 A Teacher for Calvin
Paper cover
166 pages
0.518 lbs
Item #4-265250
A one-room schoolhouse. A first-year teacher. And a bundle of boyhood trouble.
Laura had not expected teaching to be easy. But neither had she reckoned on Calvin.
What Calvin did, he did with all his might. He worked furiously to complete his schoolwork. He played hard, and he played to win. He was the fastest runner in school, and when the children chose teams, Calvin was the first one chosen. And his side usually won.
But none of the children exasperated Laura or tried her patience like Calvin. It seemed that she hardly spoke to him except to give orders or to reprimand him. Most of the children's faces were as open as a book. But not Calvin. Inside Calvin was a boy she didn't know.
Laura knew Calvin needed a wise and loving teacher, one who could cope with his boundless energy and bring out the best in him. And Laura was not that teacher—or so she thought.
Table of Contents

1. Calvin
2. The Director Brings News
3. Head Injury
4. Sally
5. Spanking
6. Two Mothers
7. Frustration
8. Breakthrough
9. A Key to Calvin
10. Trouble at the Tree House
11. Jealousy
12. Paper Wad
13. Calvin Wins the Ball Game
14. Pneumonia
15. Chewing Gum
16. Losing Ground
17. The Director Comes Again
18. Truth Is Courage
19. The Hills at Peace
Epilogue
Customers who bought this product also bought
Customers who viewed this product bought