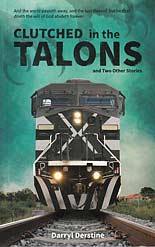 Clutched in the Talons - and Two Other Stories
Paper cover
114 pages
0.366 lbs
Item #4-265225
"I have set before you life and death, blessing and cursing: therefore choose life."
Jordan looked down at the magazine cover hungrily, his heart thudding against his ribs.

---

Captain Jim felt calm elation as he leveled the C-130 at cruise altitude. He'd show those boys some real power.

---

Samuel didn't do it because he was humble. He did it to appear humble. Yes, he admitted to himself, it was an act.

---

Kaitlin slipped down by her bed and the words came, broken words from a broken soul. It was not good English. It was good submission.

---

Carlton ascended the stairs, pondering. How easy it would have been to shut out the inner voice and just do what he wanted to do like—well, like Martha had. But the difference, as he now saw it, was staggering.
The stories in Clutched in the Talons powerfully illustrate the danger of becoming ensnared by lust of the flesh, the lust of the eyes, and the pride of life. Let the message of these stories grip your heart and stir you to greater surrender and commitment to God's will.
Contents

Clutched in the Talons
On the Wings of the Dragon
The Choice
Customers who bought this product also bought
Customers who viewed this product bought