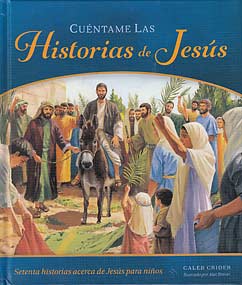 Cuentame las historias de Jesus [Tell Me the Stories of Jesus]
Hard cover
166 pages
1.55 lbs
Item #4-265101
Spanish edition of Tell Me the Stories of Jesus.
---
Jesús amaba a la gente. Él bendecía a los niños. Les contaba historias, enseñaba lecciones, y con cariño extendía sus manos para sanar a los enfermos. Los relatos sencillos en este libro, y las vívidas ilustraciones, podrán ayudar a los niños a ver a Jesús como una persona real que realizaba actos reales.
"Cuéntame las historias de Jesús" comenzará a formar en las mentes de los niños el diseño de un cuadro que irá completándose con el transcurso de los años: el cuadro de Jesús como un amigo bondadoso, comprensivo y confiable.
Customers who bought this product also bought
Customers who viewed this product bought