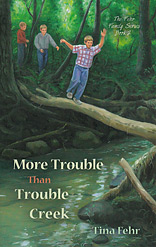 More Trouble Than Trouble Creek (Book 2) - "The Fehr Family Series"
Paper cover
80 pages
0.31 lbs
Item #4-265060
Book 2 of The Fehr Family Series. A sequel to Daddy on the Mend.
Splash! Andrew sucked in his breath as he felt cold water on his back and legs. He hadn't fallen far, and the water wasn't deep, but it was cold and muddy. He scrambled up the bank, his sopping shoes slipping and skidding. When he had caught his breath, he scowled at his sister, "Megan, this is all your fault!"
Andrew and his siblings are having trouble getting along. They argue, call each other names, and leave each other out of games and activities. Daddy and Mom have a solution for the trouble in the family, but can Andrew learn to show love to his brothers and sisters?
Table of Contents

1. Trouble Creek
2. Birthday Supper
3. Muddy Broth
4. More Trouble than Trouble Creek
5. The Family Meeting
6. The Pest
7. The Homeschool Project
8. Love Grows
9. Valerie's Loonie
10. Visit to Dr. Elton
11. A Surprise for Andrew
12. Trouble for Christopher
13. Special Tools
14. Grandma to the Rescue
15. The Yard Sale
16. The Love Chapter for Brothers and Sisters
Customers who bought this product also bought
Customers who viewed this product bought