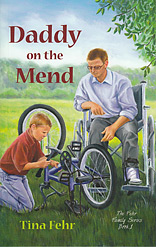 Daddy on the Mend (Book 1) - "The Fehr Family Series"
Paper cover
84 pages
0.33 lbs
Item #4-264790
Book 1 of The Fehr Family Series.
Andrew stood beside Daddy's bed. Little Sharilyn watched with wide eyes from Mom's arms. Christopher clung to Mom's skirt, and Megan gripped Grandma's hand. Daddy opened his eyes and smiled a little at Andrew. "God is taking care of me," he said. But his voice was not the strong, cheerful Daddy-voice that Andrew was used to hearing.
All summer while Daddy's broken leg heals, Andrew and his family learn about God's care, their church family's love, and about being patient and kind. Daddy on the Mend is a true story the whole family will enjoy.
Table of Contents

1. What Happened to Daddy?
2. The Hospital Visit
3. Daddy Comes Home
4. The Big Black Boot
5. Sadie and the Chicks
6. The Broken Bike
7. Ye Have Need of Patience
8. Picture of a Broken Leg
9. Brothers' Work Day
10. The Fruit and Vegetable Stand
11. The Most Important Part
12. Chicken Chases
13. Mrs. Black's Surprise
14. Ten More Potatoes
15. "I Can, I Can!"
16. A Letter From Andrew
Customers who bought this product also bought
Customers who viewed this product bought