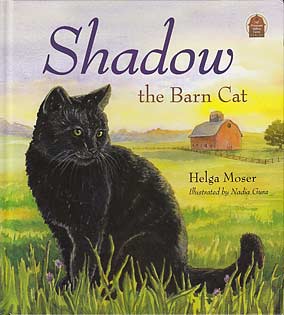 Shadow the Barn Cat - "Pleasant Valley Farm Series"
Hard cover
44 pages
1.16 lbs
Item #4-264643
From the Pleasant Valley Farm Series.
"He that diligently seeketh good procureth favour." —Proverbs 11:27
Shadow was a shy cat, but she was also brave and diligent. When Farmer Don ruined her perfect hiding place in a tunnel of hay, she didn't give up. Shadow searched and searched for a new spot. It had to be just right for keeping her secret safe.
Note to Parents

Helga Moser bases her Pleasant Valley Farm Series on actual incidents that happened on her parents' farm. As you read the stories to your children they will learn, as the animals did, some basic lessons of life.

This book emphasizes diligence. Your child will observe how diligently Shadow searches for the perfect hiding spot, even after her first choice is ruined. Like some children, Shadow is shy and afraid. But Shadow bravely explores every possible corner until she finds the place to hide her secret. Your child will enjoy the moment when Shadow's secret is at last revealed.
Customers who bought this product also bought
Customers who viewed this product bought