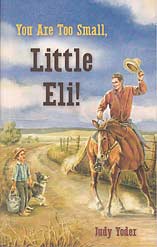 You Are Too Small, Little Eli! (Book 1) - "Little Eli Series"
Paper cover
168 pages
0.49 lbs
Item #4-264467
Book 1 of the Little Eli Series.
"You are too little to go along, Eli," his sisters would say when they left for the hills to pick blackberries.
"You are too young to go this year," Dad said when Eli's sisters and big brother Sanford hurried off to the Diamond Point School.
Even Grossmommy said he must wait to do bigger things. It seemed no matter how long he waited, Little Eli could never grow big enough to do the things he wanted to do.
He was just the little errand boy—always pumping buckets of water from the well and gathering corncobs for Mom to light the stove.
Still, lots of exciting adventures await a shy little Amish boy on the wide Oklahoma prairies during the dry years from 1939 to 1942—a train trip to Iowa, entertaining some strangers during a blizzard, and watching cowboys working near his family's faded little farmhouse.
When Grossdoddy dies, leaving the Amish people without a bishop, Eli is surprised by some dreadful news. Is he big enough to face a new challenge in his life?
Contents

Glossary of Pennsylvania Dutch Terms
Amish Customs In This Book
Preface

1. Little Eli
2. Mulberries for Supper
3. Big Enough for School?
4. Away on a Train
5. A Knock in the Storm
6. Cowboys on the Range
7. A Farm with Sanford
8. To Ride a Horse
9. Runaway Lela
10. The Cowboy Horse
11. The Storm
12. Big Enough at Last?
13. A Good Farm Dog
14. Death Comes in the Rain
15. The Passing of the Winter
16. Good-bye, Nowata, Good-bye
17. The Dreadful Surprise
18. Grossmommy's Way
19. Big Enough for Now

Note From the Author
Appendices

History of Amish Settlement at Nowata, Oklahoma
Little Eli's Family Genealogy
Mom's Homemade Rivel Soup (Recipe)
Customers who bought this product also bought
Customers who viewed this product bought