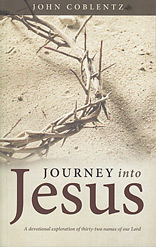 Journey Into Jesus
Paper cover
321 pages
0.816 lbs
Item #4-242395
A devotional exploration of thirty-two names of our Lord
Word of God. True Vine. Son of Man. Rabbi. High Priest. King of kings. Alpha and Omega. Lion of the Tribe of Judah. We've read these names of Jesus in Scripture, but what do they mean? And what do they mean for us?
This devotional study begins where John begins his Gospel: "In the beginning was the Word." From that great and unfathomable expanse, we take our first step into acquaintance with Jesus of Nazareth. Each name takes us a step further. Sometimes our hearts leap with insight; sometimes we simply sit and ponder. Learning to know Jesus is a journey because Jesus is the Way—the way to Life, the way to the Father.
Journey into Jesus takes us beyond mere knowledge to a deeper heart relationship with the Friend of Sinners, our Savior. Together we repent, we worship and adore, we love and obey our Captain and Lord. We owe our lives to Him!
Table of Contents

1. Jesus the Word
2. Jesus the Creator
3. Jesus the Life
4. Jesus, the Lamb of God
5. Jesus, the Son of God
6. Jesus, the Son of Man
7. Jesus, the Light of the World
8. Jesus the Rabbi
9. Jesus, the Bread of Life
10. Jesus the Messiah
11. Jesus the Prophet
12. Jesus the King
13. Jesus, Our High Priest
14. Jesus the Saviour
15. Jesus Is Lord
16. Jesus Is Immanuel
17. Jesus the Bridegroom
18. Jesus, the Good Shepherd
19. Jesus the Door
20. Jesus, the True Vine
21. Jesus, the Friend of Sinners
22. Jesus, the Stone the Builders Rejected
23. Jesus the Beloved
24. Jesus the Resurrection
25. Jesus Our Captain
26. Jesus, the Alpha and Omega
27. Jesus, the Faithful and True Witness
28. Jesus the Amen
29. Jesus, the King of Kings and Lord of Lords
30. Jesus, the Lion of the Tribe of Judah
31. Jesus, the Root and Offspring of David
32. Jesus, the Bright and Morning Star
Customers who bought this product also bought
Customers who viewed this product bought