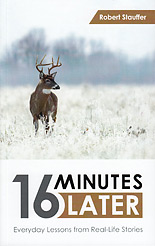 16 Minutes Later
Paper cover
239 pages
0.588 lbs
Item #4-241720
Everyday Lessons from Real-Life Stories
Whether hunting for deer on a frosty morning, making cabinets, or dipping sludge from an outhouse, Robert Stauffer finds ways to learn from his experience. Here is a sampling of stories he shares in this book:
"What was that noise?" I sat up in bed, instantly awake. It sounded like a barbed wire being stretch through fence staples. Suddenly I heard my son yell, "There's a bear in the beeyard!"

---

I had never met Rodney, but a burden for his soul descended on me. I'm not that brave a man, but the next Sunday after lunch, I drove uninvited to Rodney's house. His eyes were full of questions as he came out to meet me.

---

Mission leaders decided it was unlikely we could get to the Port-au-Prince airport safely by road. Indeed, we heard gunshots frequently, and gang members guarded two roadblocks within sight of our compound. The mission decided to evacuate us by helicopter to the airport so that we could leave the country.
This compilation of sixty-five stories and articles can be read to children, incorporated into family worship and school devotionals, or read for personal inspiration.
Table of Contents

Preface
1. Sixteen Minutes Later
2. Changing Perspectives at Nineteen
3. Doing What Needs to Be Done
4. Cooking the Books
5. Pursuing Ideas
6. Impress or Teach?
7. Are You Listening?
8. The Tyranny of Self-Love
9. Eating Humble Pie
10. What Is Not Said
11. God's Answer in Miami
12. Analee's Silent Testimony
13. The Need to Forgive God?
14. A Mistaken Motive
15. A Desperate Cry From Hell
16. Deicing My Wings
17. The Power of Song to Shape a Destiny
18. A Great-Grandmother's View
19. Pondering the Call
20. I'm Ready to End This Courtship
21. Am I Missing Something?
22. Possessing Our Vessels in Honor
23. Hawks Also Need to Eat
24. Overcoming Stage Fright
25. The Vanishing Rabbits
26. Peter's Trap Stick
27. First Clean Joke I've Heard
28. Exodus Encounter
29. A Safe Dosage
30. Henry's Gift
31. Forgetting to Tell
32. The Strength of the Knit
33. "Se Lavi"
34. Giving to Be Seen of Men?
35. One Blonde's Inspiration
36. The Haunting Question
37. Two Small Coins
38. When That Man Got Right With God
39. Pardon Me, Your Self Is Showing
40. Posh Exits
41. A Bear in the Beeyard
42. Brainwashed!
43. Learning to Fish
44. A Means of Great Encouragement
45. Where There Is No Vision
46. The Parable of a Splinter
47. Learning From Rodney
48. Our God Is Big Enough
49. When Truth Is Forsaken
50. What About Your Name?
51. The Tattoo That Made Me Think
52. What Does God Do With This Prayer?
53. Reality Check
54. In Pursuit of Personal Significance
55. Too Much of a Good Thing
56. Blog Authority
57. The Best Thing That Ever Happened to Me
58. Sometimes I Wake Up Grumpy
59. Your Speech Betrays You
60. Spending My Two Cents
61. Willing to Live Honestly
62. Unconscious Provoking
63. Your Job Is Too Small
64. What Have You Set Your Affections On?
65. What Will He Say to Me?
Customers who bought this product also bought
Customers who viewed this product bought