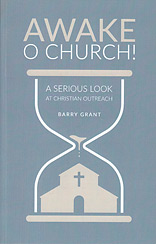 Awake, O Church! - A Serious Look at Christian Outreach
Paper cover
188 pages
0.556 lbs
Item #4-241710
People are often content with what they have until they see something better. Is that what North American missionaries are doing on the mission field—thoughtlessly displaying our money and possessions, making the poor want what we have? If so, should we be there?
Drawing from his observations and experiences as a missionary in Haiti, the author emphasizes that mankind's greatest need is not humanitarian help, but Jesus. Humanitarian aid has a place in Christian outreach, but not at the expense of Jesus.
The purpose of the book is to wake us up, to help us realize how missions can inadvertently harm rather than help, and to stir us to follow Jesus more faithfully. Awake, O Church! provides an opportunity to learn from others' experiences and reevaluate the way we do missions.
Prayerfully reading and reflecting on this book's message can help us set priorities that will make our mission efforts, whether across the street or across the ocean, more effective in meeting spiritual needs.
Contents

Publisher's Note

1. Missions Today

What Is a Missionary Today?
What Does God Want From Missions?
How Did Jesus Do Missions?
Is This Missions?

2. Why Missions?

What Is People's Real Need?
Why Do We Want to Be in Missions?
Are We Misjudging the Needs?
How Can We Avoid Misjudging?

3. The Souls of Men

What Is Most Important?
What Was Most Important to Jesus?
What Is Truly Important to Us?
Do We Believe God?

4. The God Who Is Enough

Is Money the Answer?
Can We Do Spiritual Warfare Without God?
Can Almighty God Meet Our Needs?
Do We Believe God Is Enough?

5. A Product of the Church

Can a Worldly Church Preach Jesus?
So What Is Church About?
But What About the More Biblical Churches?
Are We Ashamed?

6. The Battle That Is Raging

Can We Preach Jesus Without Facing Opposition?
Who or What Is Our Enemy?
Shall We Use Physical Weapons in Spiritual Warfare?
Are We Doing It Wrong?

7. The Missionary's Goal

Does Our Goal Matter?
What If Our Goal Is Not God's Goal?
Can the Wrong Goal Produce Right Results?
What Is Our Goal?

8. Train Up a Child in the Way He Should Go

Are We Training Them?
Could It Be That We Are Hypocrites?
Do We Lead by Example?
Can We See Spiritual Realities?

9. How Badly Do We Want It?

Do We Realize the Despair of the Lost?
Will We Fight for Our Leader and His Cause?
Do We Even Know We Are in a Battle?
Do We Care?

10. The Cost

How Much Is Our Cause Worth?
What If We Refuse to Count the Cost?
Is Christ Worth It to You?
Will You Count the Cost?

11. What If We Disobey God?

How Does God View Rebellion?
Are We Obeying—or Rebelling?
How Will We Excuse Our Disobedience?
Is God Waiting for You to Obey?

12. What Are We Waiting For?

Are Self-Help Programs the Answer
Why Are They Going?
Why Should We Go?
What Are You Waiting For?

13. Bowels of Compassion

Let's Help the Poor—Spiritually and Physically
Let's Search Diligently for a Proper Balance
Let's Help Them Help Others
Let's Give Ourselves
Customers who bought this product also bought
Customers who viewed this product bought