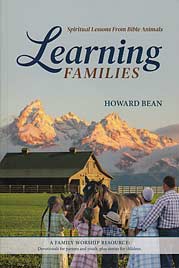 [UNAVAILABLE] Learning Families: Spiritual Lessons from Bible Animals - [Family Devotionals Series]
Paper cover
360 pages
1.142 lbs
Item #4-241518
From the Family Devotionals Series.
A Family Worship Resource: Devotionals for parents and youth, plus stories for children.
Family worship is a time for parents and children to gather for singing, Bible reading, and spiritual instruction. Many parents see the importance of family worship, but struggle to find material suitable for their whole family.
Learning Families is part of a series of devotional books that addresses that need. Each of the thirteen sections in this book focuses on animals from the Bible, including cows, horses, birds, and ants. Each section has readings for seven days, making ninety-one lessons—enough for approximately a quarter of a year.
Each day's lesson consists of two parts. The first part is especially for Dad and Mom and the older children. It includes a suggested Scripture reading, a theme verse, and a devotional meditation on the topic introduced by the Scripture reading.
The second part consists of a reading from a continued children's story related to that week's theme. Each story is followed by questions for review and discussion, which provide opportunities for applying the theme to life.
May God bless your family worship time, that you and your family may "grow in grace and in the knowledge of our Lord and Saviour Jesus Christ" (2 Peter 3:18).
Table of Contents

Dedication
Acknowledgments
How Parents Can Use This Book

Horses

Wonders of Horses
Uses of Horses
Lessons From Horses
Saved
Be Useful Like a Donkey
The Talking Donkey
A Lesson Learned

Bees

Wonders of Bees
Communication
Workers Together
Loyalty to the Hive
Lessons From Bees for the Church
Air-Conditioning in the Church
Sweeter Than Honey
A Sweet Result

Sheep

Sheep Need a Shepherd
Believers Are Like Sheep
Behold the Lamb
Dying for Others
Sheep Are Valuable
A Stray
The Lord Is My Shepherd
A Sheepish Lesson

Big Mammals

Elephants
The Huge Hippopotamus
Great Apes
Bears
Deer
Wild Goats
Whales
Learning at the Zoo

Small Critters

Snakes
You Are Like a Grasshopper
Frogs
Spiders and Spinning
The Worth of Worms
Locusts
Chameleons
Snakes and People and God

Cows

Cows Are Amazing
Thank God for Cows
Of Cows and Angels
The Alignment of Cows and People
Becoming Realigned
Lessons Related to Cows
More Lessons Related to Cows
Cow Tales

Big Cats

A Cat Scan
The Lion's Family
Roaring and Fearing
A Ferocious Foe
Daniel in a Den
Skills of Leopards
The Value of a Cat

Birds

God Sees the Little Sparrow
Pelicans
Peacocks
Ostriches
Quail
Owls
Pigeons and Doves
Winged Wonders

Ants

Wonders of Ants
Be Strong
Be Organized
Don't Be a Sluggard
The Odor of a Dead Ant
Mentoring
Some Friends of Ants
The Gift of Work

Eagles

Too Wonderful for Me
Maintain Good Attitudes
Wait on the Lord
Things to Avoid
Be Honest
The Eagle Shall Teach You
Be Eagle-Eyed
With Wings as Eagles

Camels

Camel Facts
Camels and the Creator
Travel by Camel
Bear One Another's Burdens
The Useful Camel
Bad Attitudes and Habits of Camels
Lessons From Camels
Camels, Camels, Camels

Dogs

Helpful Dogs
Seeking the Lost
Dogs: The Great and the Gross
Dangerous Dogs
Wolves: Amazing but Dangerous
Wolves in Sheep's Clothing
Little Foxes
Man's Best Friend

Man's Relationship to Animals

God's Wisdom Regarding Animals
Our Stewardship of Animals
We Are Different From Animals
Animals—Your Brothers?
Pet-ty Cash
Plentiful Passengers
Sadly Extinct
Let's Discuss Animals
Customers who bought this product also bought
Customers who viewed this product bought