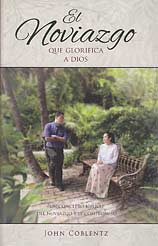 El noviazgo que glorifica a Dios [Courtship That Glorifies God]
Paper cover
60 pages
0.19 lbs
Item #4-241033
Spanish edition of Courtship That Glorifies God.
---
¿Cuál es su opinión sobre lo siguiente?
Las costumbres comunes respecto al noviazgo.
La edad ideal para comenzar un noviazgo.
La parte de los padres en el noviazgo.
El noviazgo como diversión o pasatiempo.
Los noviazgos con varias personas.
Los besos y el tomarse de las manos.
El noviazgo con un cristiano descarriado.
Lo que significa el compromiso.
La duración del compromiso.
Este libro aborda estos temas desde la perspectiva de los principios de la Biblia. Es posible que algunos no estén de acuerdo con todos los consejos del autor, pero se verán estimulados a examinar sus propias opiniones. Encontrarán sugerencias prácticas para edificar sobre el fundamento de Cristo un noviazgo sólido y un compromiso exitoso.
Ideal para padres, jóvenes, y pastores. Además, provee una guía para estimular provechosos diálogos en grupo.
Customers who bought this product also bought
Customers who viewed this product bought