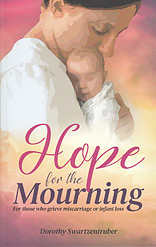 Hope for the Mourning
Paper cover
148 pages
0.456 lbs
Item #4-241000
For those who grieve miscarriage or infant loss
Can this be happening to us? Our doctor has just told us that something is wrong—our baby will not live. Surely this is a bad dream.
The loss of a child is a profound bereavement. Parents grieve not only the loss of a beloved baby, but also the loss of what that child represented. Children represent the hope of a family, especially for first-time parents. They represent a part of the parents themselves—their dreams and expectations.
Losing a baby, whether through miscarriage or a later death, changes a mother and family forever. Though the journey to healing may be grueling, the pain and sorrow can be endured. God's arms are underneath, and His abundant grace is sufficient for each moment.
Though Hope for the Mourning is written from a mother's perspective and includes experiences and quotes from many mothers, husbands will find help here also. In addition, friends and church families who read this book will better understand how to support and show compassion to those who grieve.
Contents

Introduction
1. If You Get This Book Before Your Baby's Birth
2. The First Days and Weeks
3. Godly Grieving
4. Crossing Grief's Bridges
5. When Humans Have No Answers
6. Counting Grief's Blessings
7. One in Love, Two in Grief
8. Helping Children Cope
9. "Let Us Go Into the House of the Lord"
10. Another Baby? Maybe.
11. Relating to Miserable Comforters
12. For Family and Friends
Acknowledgments
Customers who bought this product also bought
Customers who viewed this product bought