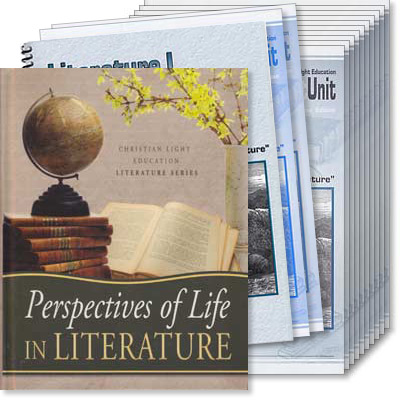 Literature I - Perspectives of Life in Literature Set
Recommended for use in Grade 11. This text investigates significant aspects of life through literature selections which portray both common and uncommon experiences. Units included are short stories, poetry, biography, reflections (selections on the theme of Christian victory), and allegory.
Note: the exercises in the textbook were designed to be done with alternate worksheets in a classroom setting, so those exercises can be skipped when using the LightUnit workbooks included in this set.
Contents

UNIT 1: THE SHORT STORY—For the Christ-Filled Life

Introduction
Mama and the Garfield Boys
The Horse
Second Chance

SYMBOLISM

Shago
A Spark Neglected
Cache of Honor

TONE

The Mote and the Beam
Where Love Is, There Is God Also
Whom Shall I Fear?

UNITY

The Great Stone Face
The Doctor of Afternoon Arm
Too Dark

UNIT 2: POETRY—For the Joyful Life

Introduction
Pippa's Song
Sheer Joy
A Psalm of Life
The Pilgrim

POEMS OF A FEATHER—KINDS OF POETRY

Blank Verse

Rhymed and Bound Verse

Free Verse

THE ANATOMY OF A POEM—FOUR POETIC FORMS

The Acrostic

The Triolet

The Triolet
The Bible
The Key to Happiness
Winter's Coming
Spring

The Sonnet

Lord, What a Change
O God, I Love Thee
Forgiveness

Hebrew Poetry

Psalm 1
Psalm 43
Psalm 66
Psalm 119:9-16
Psalm 126

THE HABITAT OF A POEM—FOUR PURPOSES FOR A POEM

George Wagner
The Fool's Prayer
The Battle of Blenheim
A Fable
Prayer Answer by Crosses
The Merchant of Venice
Macbeth
Julius Caesar
What Is So Rare as a Day in June?
The Spacious Firmament
Apostrophe to the Ocean
Elegy Written in a Country Churchyard
Bad Times
Building
The Poet

A FLOCK OF POEMS—POEMS TO PONDER

Joy for the Mounting Character

Victory in Defeat
Conscience and Remorse
No Enemies
Betrayal

Joy for the Caged Spirit

Blind But Happy
On His Blindness
Sympathy
A Little Bird I Am

Joy in the Heights With Christ

The Crystal Christ
The Boat
Calvary
Good Friday

Joy on the Plains With Others

Bigot
Conventionality
Mending Wall
Thy Brother

UNIT 3: BIOGRAPHY—For the Exemplary Life

Introduction
Menno Simons, 1496-1561
Grace Abounding to the Chief of Sinners

Preconversion Experiences
Postconversion Experiences
Preaching Experiences
Prison Experience

True... Till Death—The Story of Clayton Kratz

From Childhood to Manhood
Kratz Answers the Call
Calm in the Face of Terror
To Serve and to Suffer

William Carey

Moulton and the Missionary Call
The Formation of the Baptist Missionary Society
Converts, Trials, and Progress

UNIT 4: REFLECTIONS—For the Victorious Life

REFLECTIONS ON DISCIPLINE

Discipline
The Chariots of God
The Discipline of Deformity

REFLECTIONS ON AMBITION

Acres of Diamonds
The Man Who Planted Hope and Grew Happiness
RMS Titanic
Top Man

REFLECTIONS ON FAITHFUL CHRISTIANS

The Testimonies of Two Servants of God
Diary of David Brainerd
Letters of Hermann Stohr
Though He Slay Me

REFLECTIONS ON BIBLE CHARACTERS

Last Night of Sodom
The Self-made Fool—Saul
Ruth, the Moabitess

UNIT 5: THE ALLEGORY—For the Fruitful Life

Introduction
The Parable of the Ten Virgins
Wheelbarrows
A Flea for Fishing
The Pilgrim's Progress

Chapter 1: Christian Begins His Journey
Chapter 2: Christian Falls in the Slough of Despond
Chapter 3: Christian Meets Mr. Worldly Wiseman
Chapter 4: Christian Passes Through the Wicket-Gate
Chapter 5: Christian Visits the Interpreter's House
Chapter 6: Christian Reaches the Cross
Chapter 7: Christian Climbs the Hill of Difficulty
Chapter 8: Christian Visits Palace Beautiful
Chapter 9: Christian Battles With Apollyon in the Valley of Humiliation
Chapter 10: Christian Passes Through the Valley of the Shadow
Chapter 11: Christian Meets Faithful
Chapter 12: Christian and Faithful Meet Talkative
Chapter 13: Christian and Faithful Enter the Town of Vanity
Chapter 14: Hopeful Joins Christian
Chapter 15: Christian and Hopeful Meet Giant Despair at Doubting Castle
Chapter 16: Christian and Hopeful Pass Through the Delectable Mountains
Chapter 17: Christian and Hopeful Reach the Enchanted Ground
Chapter 18: Christian and Hopeful Attempt to Help Ignorance
Chapter 19: Christian and Hopeful Enter the Land of Beulah and Cross the River
Chapter 20: Christian and Hopeful Reach Zion

The Celestial Railroad

Index of Authors, Titles, and First Lines of Poetry
Index of Literary Terms
Index of Biblical References
Acknowledgments
Customers who bought this product also bought
Customers who viewed this product bought