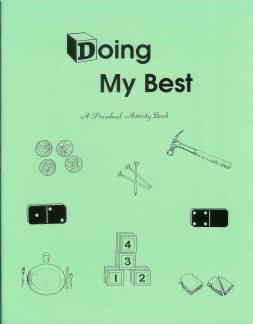 Doing My Best - Preschool Activity Workbook
Paper cover
32 pages
0.22 lbs
Item #39-104
A Preschool Activity Book
from the Set of 4 Preschool Activity Workbooks
Note to Parents:

Doing My Best, the fourth book of this preschool activity series, was designed with the four- or five-year-old in mind.

You will find the number exercises are just slightly advanced from those in the previous book in the series. The same is true of the cut and paste exercises.

The color code at the left of this page corresponds with the code in Color, Count, and Cut. If that book has just recently been completed, your child will likely remember what color each shape stands for. If not, you will want to make sure each shape in the code is colored correctly before attempting to do the exercises in this book. The code will then provide the help needed to do the coloring exercises.

If, for any reason, you find the exercises in this book are a bit above your youngster's level, don't force it. Simply hold it back for several months, and then try again. On the other hand, if the exercises are rather simple and the book is soon consumed, get a harder book.

These exercises should provide hours of interesting and worthwhile activities for your preschooler. This should help to establish a solid base which will be a benefit once the child starts with actual school work later on.

We hope you and your child enjoy the activities in Doing My Best.
Customers who bought this product also bought
Customers who viewed this product bought