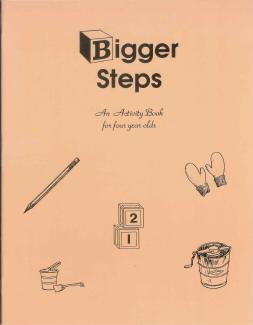 Bigger Steps - Preschool Activity Workbook
Paper cover
32 pages
0.22 lbs
Item #39-102
An Activity Book for Four-Year-Olds
from the Set of 4 Preschool Activity Workbooks
Note to Parents:

Bigger Steps is an activity book designed for your young child. It was made to follow the beginning activity book, About Three, which is intended for children who, as the title suggests, are about three or four years old.

The exercises in this second book are slightly advanced from those in the first book. However, the main focus is still in providing practice in basic motor skills such as hand-eye coordination and visual comparison of objects. At the same time it gives some primary exposure to number concepts, which should be an asset to young minds when the time comes to learn these concrete lessons in numbers.

On each page there are simple instructions, and some pages have short paragraphs of interest for the young child. You will need to read these instructions to your child and help him or her understand what is to be done.

On the first several pages you will notice small arrows with each exercise, indicating the direction the lines are to be drawn. We recommend you help your child develop this basic left-to-right pattern as these activities are done. It is something that needs to be learned and the younger the child learns it, the easier it seems to be.

To get the most out of this book, the child might first do the exercises without a pencil, using the fingers only. It could then be repeated with a pencil, and then yet another time with a crayon.

We hope you and your child enjoy the activities in Bigger Steps.
Customers who bought this product also bought
Customers who viewed this product bought