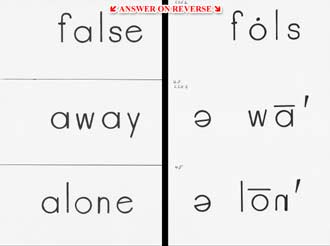 Dictionary Skills - Respelling Flash Cards for Pronunciation
To accompany Climbing to Good English grades 2 - 3
Pack contains 24 sheets with six flashcards on each sheet. Cut on the lines to create 144 flashcards.
Perhaps the most important lesson a teacher can impart to any student is the ability to help himself—How to find information, how to follow directions, and how to make use of it.
How much do your students use the dictionary? Are they in the habit of helping themselves by looking up pronunciation and meanings? If so, you have done your students a great favor by teaching them how, and then making sure they use their knowledge.
In CGE, dictionary skills are begun in second grade by learning how to pronounce dictionary respellings. To master respellings, students need more drill than the workbook can provide, so the book recommends using these flashcards. Each word card has a page number of the lesson in CGE 2 where the symbol is taught. (It begins on page 30.) One side of the card has the actual word; the other side has the dictionary respelling.
In the beginning of grade 3, these cards should again be used for review and to sharpen student's skills. The teacher's edition of CGE 3 guides the teacher in their use.
Suggestions for Flashcard Practice

Cards should be drilled until automatic response (instantly answering correctly) is attained.
Practice often, but in short intervals.
Practice in various ways—even a small change in routine can make the difference in student's attention and enthusiasm.
When student has pronounced the respelling, he should also be shown the real word on the other side.
Sometimes you can show the word and have the student write the respelling.
Customers who bought this product also bought
Customers who viewed this product bought